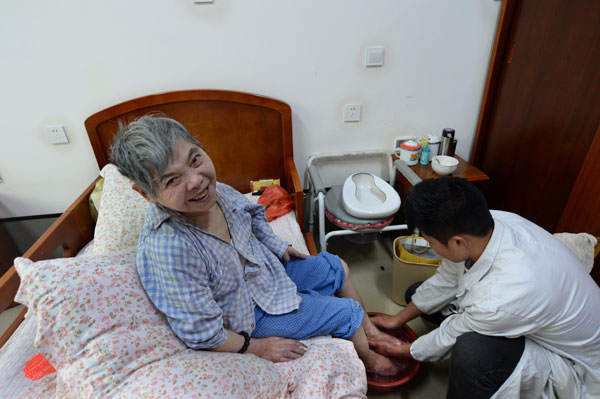 A man from a social welfare center for the aged in Guiyang, Guizhou province, washes the feet of 87-year-old Cai Sifen. China is in great need of nursing home beds and professional caretakers for the elderly. [Photo by Qiao Qiming/For China Daily]
The deaths of an elderly couple in Shanghai, who took their own lives, have once again highlighted the problems faced by many elderly residents in the country.
The couple, both aged 85, opened the gas and set fire to flammable substances inside their house. They were burned to death before firefighters could put out the fire and rescue them. The couple, who each had children from a previous marriage, married in their 50s. They posted a note on the door of their home a few days before they committed suicide, expressing thanks to their neighbors and saying "it's time to go".
Had their children, neighbors and community staff paid more attention to the elderly couple, their deaths might have been prevented.
The tragedy, just one of a series of suicides by senior citizens across the country in recent years, reveals the lack of enough material and psychological support for the elderly, at a time when society is rapidly ageing and changing.
By the end of 2014, the number of people over the age of 60 had reached 212 million in China, accounting for 15.5 percent of the total population. And the grey population is expected to rise to 400 million by the middle of this century.
It is common, especially in rural areas, for elderly people to feel lonely after their children leave to work elsewhere. And an increasing number of seniors suffer from psychological problems to different degrees, according to surveys. The elderly, those in rural areas in particular, are becoming the group at the highest risk of committing suicide.
The psychological problems that plague the aged show that more needs to be done to provide them with support now that social changes mean families often no longer provide it.