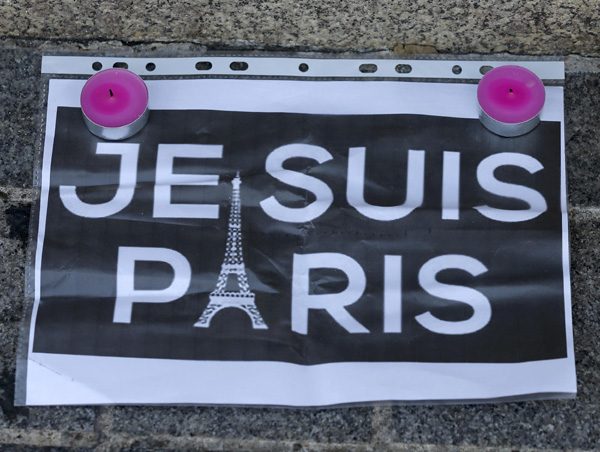 Candles and a leaflet with the slogan "I am Paris" are left in tribute to victims of Paris attacks in central Strasbourg, France, November 14, 2015. [Photo/Agencies] 
THE TERRORIST ATTACKS IN PARIS ON FRIDAY, in which at least 129 people were killed and another 352 injured, has shocked the whole world. What lessons can we draw from the tragedy? Chu Yin, an associate professor from University of International Relations, asked in a column for ifeng.com:
What happened in Paris shows that France, or Europe as a whole, has failed to establish an effective anti-terrorism mechanism. Actually, in August, Europe narrowly escaped another tragedy when a terrorist tried to attack a train from the Netherlands to France. It was two US soldiers on leave and a friend traveling with them on the train who prevented any deaths by subduing the attacker.
It is surprising that the French anti-terrorism forces failed to effectively improve their work after that incident. French President Francois Hollande and his government should be held partly responsible for that failure. France and Europe need not only sympathy for the victims, but also an effective anti-terrorism mechanism.
The attack in Paris also shows that the trans-regional governance, which the EU adopts, faces severe security challenges. European nations have opened their borders to each other and allow people to flow freely, and their security arrangements are ineffective.
How is it, the United States, Russia and China can better prevent terrorist attacks? It is because their anti-terrorism efforts are more efficient and practical, and they do not need so much coordination with their neighbors or between different departments. After the terrorist attack on Sept 11, 2001, the US has made many efforts towards improving its own anti-terrorism system, but Europe, or rather its sovereign nations, have not done enough.
Having suffered for centuries from wars and rivalries, European nations have formed a community and adopted a unique governance mode, namely collective decision-making via negotiations and compromises. The mode is democratic, but has low efficiency. As a result, although it is good at tackling many issues, it is unable to effectively guard against terrorist attacks. This makes Europe vulnerable to terrorism.
The bloody attack in Paris might have some impact upon European politics: right-wing leaders will possibly get more support and people will exert more pressure upon the security departments. However, it will take time for Europe to have a better security mechanism. It is time for Europeans to reflect upon and learn the lessons of these attacks, so that the bloody tragedy won't be repeated in the future.