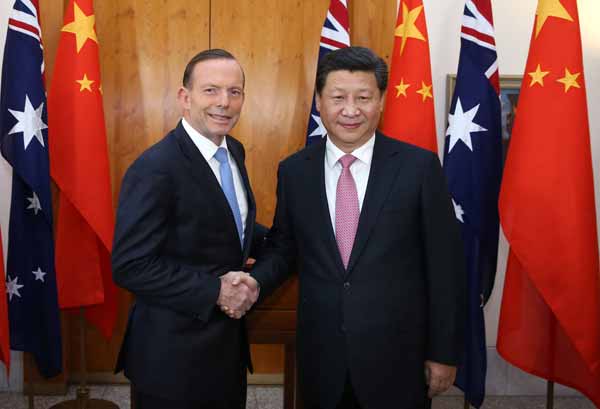 Chinese President Xi Jinping (R) shakes hands with Australian Prime Minister Tony Abbott during their meeting in Canberra, capital of Australia, Nov. 17, 2014. [Photo/Xinhua]
The Australian Senate on Monday passed bills related to the China-Australia Free Trade Agreement, paving the way for the country to sign the agreement into law. The comprehensive, high-quality free trade arrangement will usher in a new era for reciprocal cooperation on trade and bring tangible benefits to the two economies.
The pact, signed between the two countries in June, has been the result of 10 years' negotiations that gave full play to the complementary nature of the two economies and sought to accommodate each country's interests and concerns to the greatest extent.
Upon full implementation, tariffs will be lifted on 95 percent of Australian exports, restrictions will be loosened for Chinese investments in Australia, and more visas granted for Chinese on working holidays. The full list of benefits is much longer.
Considering that the agreement was previously opposed by the opposition Labor Party, the timely passage of the bills shows the strong political will of Australia's new government led by Malcolm Turnbull in upholding this hard-won gem of bilateral interaction.
The FTA with Australia also shows China is honoring its commitment to playing the role of a banner bearer for global free trade and safeguarding the world's multilateral trade system.
It marks the latest fruit of the country's opening-up strategy as well as an important step in deepening reforms. The ChAFTA is the country's free trade agreement with another Western economy, demonstrating the country's growing confidence in integrating into world economic system and international order.
To date, China has signed 14 FTA agreements. The country's accelerated pace in cultivating a high-standard free trade network with international partners has expanded China's strategic space and contributed to regional and world economic development.
Given that 12 nations in the Pacific Rim, the United States and Australia included, signed the Trans-Pacific Partnership Agreement in October, China's FTA strategy could be complementary to the TPP as it draws trade ties with more partners much closer and shores up win-win cooperation.
From a broader perspective, the ChAFTA and the FTA between China and the Republic of Korea, which was also signed in June, will have a far-reaching effect on promoting comprehensive partnership in the Asia-Pacific and the push for regional integration, which is crucial for common development and prosperity in the region at large.