Editor's note: President Xi Jinping, together with British Prime Minister David Cameron, is to visit Manchester City Football Club on Friday. Xi's passion for the sport has hardly been a secret and even before he assumed office, he had set three key goals for China – to qualify for a World Cup finals, host a World Cup and win a World Cup championship. His visit will likely bring further soccer cooperation between the two countries. To discuss Xi's passion for the game and China-UK soccer ties, China Daily's Song Jingyi spoke to Terry Singh, a pioneering coach now in Zhengzhou from Britain.
Here are his thoughts based on the interview.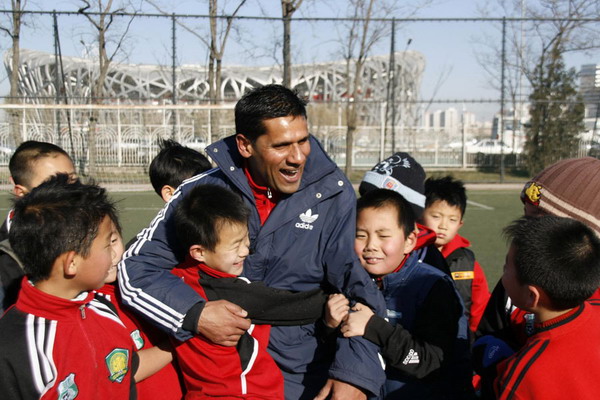 Photo taken in 2008 shows Terry Singh interacting with students during a training program at the Beijing Olympic Sports Center. [Provided by Terry Singh]
President Xi Jinping's trip to Etihad Stadium has already generated a big buzz in the UK and China. Ahead of the state visit, Xi told Reuters that China will pursue the goals of strengthening soccer training for youth and reforming the system. I think there is great potential for China and Britain to cooperate, since Britain has a rich culture and history of the game, and a mature professional league, while China has an enormous fan base and market.
Terry Singh
British officials are hoping to boost the game's profile in the world's most populous nation. China and Britain need to strengthen cooperation. China could take in more British soccer training methods and philosophy of team-work. The two countries could invest more money in the Chinese market to train a new generation of soccer talents in China, roll out some study-abroad programs, as well as initiatives to lure international stars to China.
As for why Xi chose to visit Manchester City. First of all, China has a big fan base that is crazy about the Premier League. Manchester City has been among the most successful Premier League teams in the last few years. In 2011, they won the FA Cup. In following years, they also won the Premier League and League Cup. Along with that, there is a significant Manchester City connection to China in Sun Jihai, who played for City from 2002 to 2008, becoming the first Chinese player to score in the Premier League. This time, Sun will be on hand to welcome Xi to the Etihad Stadium and accompany him during his visit to the club.
We should learn the soccer culture from Britain. It appears that Chinese people enjoy watching games, but few really want to play or have their children play. China lacks soccer mothers. Chinese parents overemphasize the importance of book learning and academic examinations over everything else, soccer included. We need to change our mindset first, then develop the talent. Since football is a mass participation sport in which the best players may not emerge until their late teens, China also needs a system of community-based clubs run by the people for the people. To develop Chinese soccer talent, there is still a long way to go.
Reports have indicated that China might take advice from Manchester City to boost ties with Britain. I believe that Xi's visit to UK will further enhance soccer cooperation between the two countries.
I am confident that Chinese soccer will do better and make its own contribution to the world game.