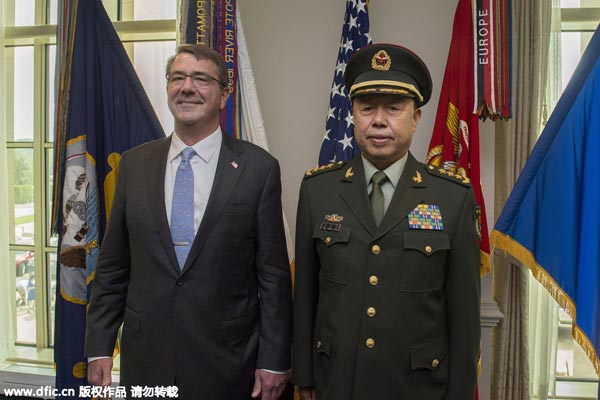 Secretary of Defense Ash Carter poses for a photo with Gen. Fan Changlong, vice-chairman of China's Central Military Commission, at the Pentagon, June 11, 2015. [Photo/IC]
Southeast of the National Museum of the Marine Corps in Virginia is a huge restricted access area known as Marine Corps Base Quantico. On Tuesday, I was among a group of foreign journalists allowed to visit the base to see how some 1,800 Marine officers are produced each year.
The Basic School of the Marine Corps is based here, and we watched five Marine officers demonstrate their martial arts skills, as well as a training session with machine guns and rocket-propelled grenades. Live artillery fire was being conducted, with deafening blasts.
As a Chinese national, I had mixed feelings. China and the United States were allies during World War II, and I have met several US veterans who fought in China alongside Chinese against the Japanese invaders.
On Monday afternoon, I was chatting with Dan Petach, from New Jersey. He was so proud talking about his uncle John Petach, who served in China under General Claire Lee Chennault, commander of the Flying Tigers, the 1st American Volunteer Group of the Chinese Air Force, which helped the Chinese fight the Japanese aggressors during WWII. Petach had come to Washington for an exhibition about the Flying Tigers, who 70years after the end of the WWII, the Chinese still remember well and feel grateful to.
However, in the Cold War era, China and the US fought each other in the Korean War in the early 1950s. And China actively supported North Vietnam in war against the US during the Vietnam War in the 1960s and early 1970s. They were both bloody wars that cost countless lives on all sides.
Today, the China-US relationship is so complicated that it is hard to reach a consensus on whether they are friends, enemies or "frenemies".
Fortunately, bilateral military-to-military ties, which had long lagged behind other areas in bilateral relations, have gathered steam in recent years with more high-level exchange visits and joint exercises, the most notable being China's participation in the Rim of the Pacific (RIMPAC) naval exercises for the first time in 2014.
Yet, it is disheartening to attend seminars where analysts talk about China's anti-access/area denial (A2/AD) strategy versus the US AirSea Battle doctrine, now known as the Joint Concept for Access and Maneuver in the Global Commons or JAM-GC for short.
Such strategies mean that the two countries will waste huge amounts of money on their militaries; money that could otherwise be better spent on education, healthcare, infrastructure and other areas that improve people's lives.
Former US secretary of state Henry Kissinger has warned about these strategies becoming self-fulfilling prophecies that result in conflict, as many Chinese see such tactics as an attempt to contain China while Americans see China's every move as a challenge to the US' sole superpower status.
Early this year, Harvard scholar Joseph Nye declared that treating China as an enemy, guarantees a future enemy, while treating China as a friend keeps open the possibility of a more peaceful future.
As the Marine martial arts trainer in Quantico talked about how to hurt and kill on Tuesday, I was thinking how destructive a war between China and the US would be, and how it should never be allowed to happen.
More exchanges between the two militaries will help reduce such a possibility, but the two nations' leaders, President Xi Jinping and President Barack Obama, bear the foremost responsibility to help prevent military rivalry or an arms race escalating into conflict.
The author, based in Washington, is deputy editor of China Daily USA. chenweihua@chinadailyusa.com