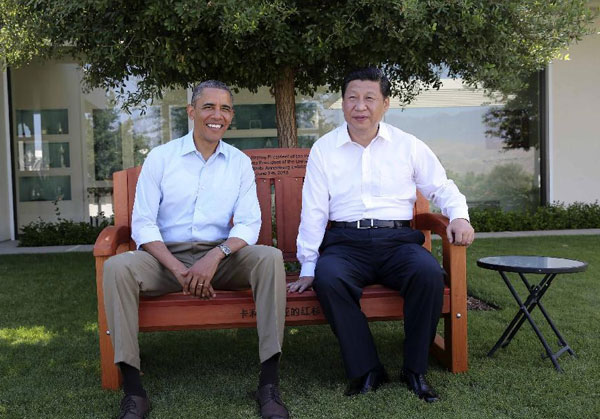 US President Barack Obama and Chinese President Xi Jinping rest during a tour at the Annenberg Retreat, California, June 8, 2013. [Photo/Xinhua]
On January 28, 1979, Mr. Deng Xiaoping, then China's vice premier, started his nine-day official visit to the United States, the first such visit by a top Chinese leader since the founding of the People's Republic. There are many memorable moments from his tour, but the most iconic is undoubtedly when he put on a ten-gallon cowboy hat and waved to the audience in a Texas rodeo. That moment humanized Chinese leaders, who had been demonized by American leaders and mass media for nearly two decades. It was China's first "charm offensive" to win over the hearts and minds of Americans — and certainly a very successful one by any standard.
A book detailing Deng's historic visit was published in 2011 and was turned into a documentary, Mr. Deng Goes to Washington, which premiered on May 12, 2015. It could be a pure coincidence that the movie came out just four months before Chinese President Xi Jinping's state visit to the United States. Regardless, one may still wonder if he can replicate the wonders of Deng Xiaoping and leave a lasting imprint on the collective memories of the bilateral relationship.
Mr. Xi is no stranger to the United States, a country he has visited six times before — probably more than any other Chinese leader. He made his first U.S. trip in 1985, then visited twice in the 1990s and once in 2006. In 2012, he returned to Washington as China's vice president and heir apparent. A year later, as the new president of China, he met with President Barack Obama at the Sunnylands Estate in California. While his first visits were unknown to most people in both countries, the most recent two were widely reported by American and Chinese media.
Frequent visits do not necessarily translate into good relations, however. Against the background of rising tensions between the two countries over the South China Sea and amidst increasing calls from some U.S. analysts to "get tough on China," it would seem unrealistic to hope for another historic summit like the one in 1979. Nevertheless President Xi's visit has the potential to be a great success if both sides — particularly Chinese officials who are in charge of planning his itinerary — are willing to try their best.
Since many members of Congress are among the most vocal critics of China on issues ranging from human rights to trade to currency, it is imperative that the Chinese president visit Capitol Hill and have a face-to-face session (either public or closed-door) with leaders of the House and Senate. In the American system of "separated institutions sharing powers," Congress can play — and has played — a critical role in the bilateral relationship by shaping public opinion, setting the executive agenda, or blocking policy implementation. That Congress has refused to pass a law to implement IMF reform that will substantially increase China's voting shares is but one excellent example of congressional influence.