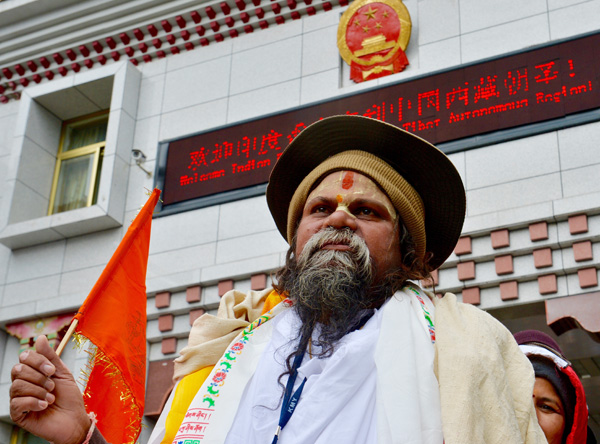 Indian pilgrims reach the Nathu La Pass in Dromo county, Tibet, on Monday. China has opened a new path for Indian pilgrims to visit sacred religious sites in the autonomous region. Daqiong / China Daily
China's opening of the Nathu La border point on Monday is not just a boon for Indians making a pilgrimage to the sacred religious sites of Mount Kangrinboqe and Mapam Yumco Lake in the Tibet autonomous region. It is also a sign of improvement in relations between China and India, the two most populous and largest developing countries in the world.
For Indian pilgrims to the lake, the journey used to take more than 20 days on donkey or horseback through rugged terrain some 5,800 meters above sea level. It was very difficult for elderly pilgrims and those in poor physical condition. With the opening of the Nathu La Pass, pilgrims will be able to take a bus for half of the journey and the entire trip will be cut by eight to 10 days.
This is just one of the things both sides are doing to promote amicability after Indian Prime Minister Narendra Modi's visit to China in the middle of May.
That Chinese President Xi Jinping received Modi in Xi'an, the capital of Northwest China's Shaanxi province, from where Chinese monk Xuanzang set out on his journey to India in AD 628, points to the importance of promoting cultural bonds and people-to-people exchanges between the two neighbors.
The opening of the Nathu La border point will also help to promote the exchanges between the two peoples. This will increase mutual understanding and trust between the two peoples, and therefore lay the foundation for the two governments to resolve the border dispute and other differences through dialogues.
How the two largest emerging economies in the world maintain good bilateral relations by managing well their border dispute will determine not only their interests but also those of the whole of Asia and the rest of the world.
What the two governments are trying to do to cultivate amicability in their relations by expanding cooperation in a wide range of areas and extending exchanges between two peoples while shelving their disputes and differences sets a good example for relations between countries.
This is the way for both to benefit from their relations. This is also how countries with differences or disputes can seek the maximum benefit through expanding areas of cooperation while reducing the impact of disputes or differences as much as possible.