菜小鸟 (China)
Seven years ago I was made to sit in the classroom for self-study, waiting for the 'final execution' to come. My head went blank now and then. I am not the type of person who's always calm and patient. I didn't feel like studying or reviewing any of my lessons for the last whole week. For me then, the anxiety within made me terrified and guilty. Terrified because I couldn't afford to lose the battle. Guilty because the last thing I wanted to see was the disappointed faces of my parents. Fortunately, I did OK, although it was not my best play. Several things I learnt from gaokao:
1. NEVER ever wait idly for miracle in the last month, or week. Cramming for exams in most cases doesn't work. The first two-and-a-half years matter much more than you think.
2. Learning with an effective and efficient system saves an enormous amount of trouble.
3. The reviewing process is not about how many questions you can solve, but how many problems you can find within yourself.
4. Gaokao is actually not that decisive. Many decisions you make later in your life (like which major you choose) can be as important in shaping your life.
5. Gaokao is not the end of your learning career. On the contrary, it is the start.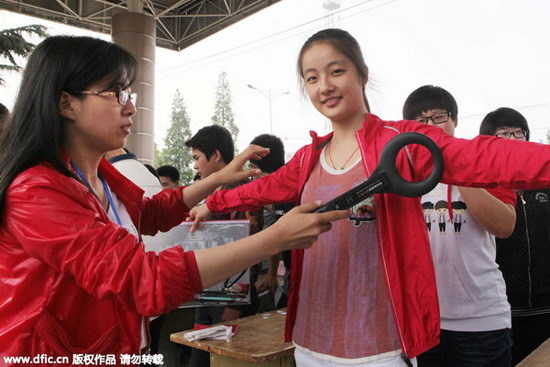 A student goes through a metal detector in Lianyungang, Jiangsu province. [Photo/IC]