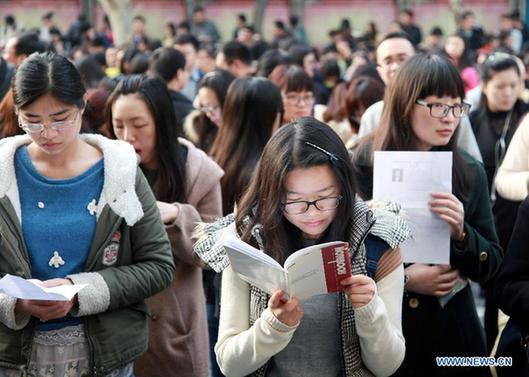 Candidates review before the civil servant recruitment exam of Jiangsu Province at Nanjing Forestry University in Nanjing, capital of east China's Jiangsu province, March 22, 2015. More than 190,000 candidates here will compete for 5,872 positions this year. [Photo by Liu Jianhua/Xinhua]
"I'm making efforts to go to a bigger city - even kilometers away would be better. Life is without any hope for a civil servant here and the older officials treat us like slaves," Jun'er, a young civil servant in a small town, was recently reported as saying. She also complained about the low pay, bureaucratism and corruption in the lower level government agencies. Comments:
Even if Jun'er makes it to a bigger city, will the situation necessarily be better? She said she wants to stay in government agencies, but corruption and bureaucratism may be found at other levels, not only at the bottom level. Maybe when she succeeds in going to a bigger city she will find life even more hopeless.
Beijing News, May 4
In her story, Jun'er revealed some clues about their colleagues embezzling money from the State subsidies intended for poor farmers, arranging for their relatives to occupy government positions, and who, instead of providing a service to the public, work less than one hour a day. This might not be solid evidence of the corruption of local officials, but there are many similar cases, which call for the better supervision of power.
Southern Metropolis Daily, May 4
Are civil servants truly leading miserable lives? Certainly not, do not forget that for every government job there are over 100 applicants every year. Truly they have lost some of their illicit income thanks to the anti-graft campaign, but there is no need to worry about them being miserable because they are still living much better lives than ordinary people.
rednet.cn, May 4