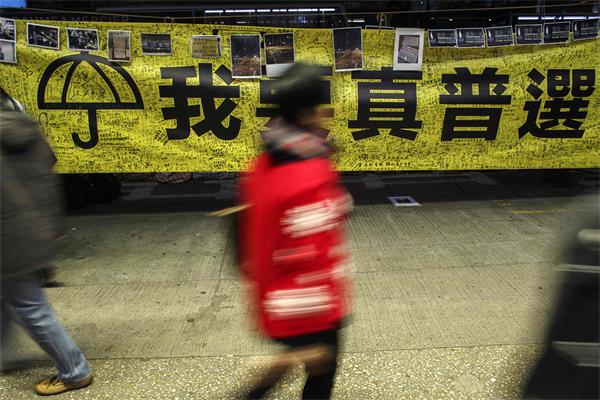 People walk past a banner written by pro-democracy protesters at the area occupied by protesters at Causeway Bay in Hong Kong December 14, 2014. Banner reads "I want real universal suffrage". [Photo/Agencies]
A few political radicals in the Hong Kong Special Administrative Region staged a violent protest against the government's proposals for universal suffrage on Sunday. Chief Executive Leung Chun-ying termed their action "unsavory" and called for rational discussion on the government's reform plans. Comments:
The few who resort to political violence cause huge financial losses to Hong Kong residents. Their rampancy has a lot to do with the weak punishments they receive according to the local law. Thus, the relevant regulations need to be strengthened and law enforcement enhanced to prevent some "political gangsters" from sabotaging society.
Hong Kong Commercial Daily, April 28
Serving as a guarantee of Hong Kong's enduring stability and prosperity since 1997, the Basic Law has been designed to carry out the institutional and legal exercise of the "One Country, Two Systems" policy. The implementation of the electoral reform proposals in Hong Kong is vital to enhancing the authority of the Basic Law. The opposition forces aiming to disrupt the government's campaign in a desperate pursuit of public support are doomed to failure just like they did with last year's "Occupy Central" movement.
Ta Kung Pao newspaper, April 27
In the radicals' minds, the proposals, based on sufficient public consultation, have always to be opposed no matter how much autonomous freedom they will give Hong Kong, simply because they are approved by the central government in Beijing. The sporadic protests are unlikely to end even though they have hurt the local democratization process, rule of law, and the economy to some extent.
Guan Zhe, a columnist with guancha.cn, April 23