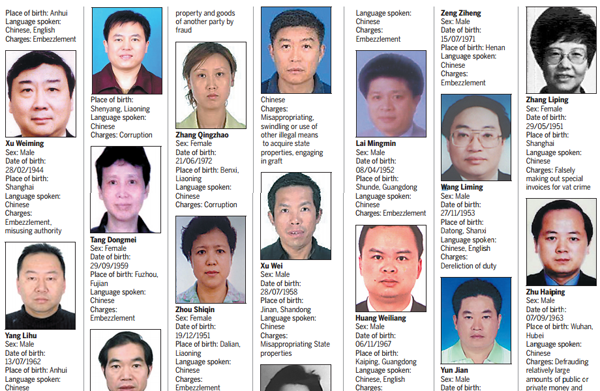 Some of the 100 most-wanted corrupt Chinese officials who have fled overseas. Please click here for a full list of the 100 fugitives. [Photo/China Daily]
The China National Central Bureau of the International Criminal Police Organization recently released a list of its 100 most-wanted worldwide, all of whom are suspected of economic crimes. The move is part of "Sky Net", a campaign aimed at repatriating corrupt officials that fled overseas. Comments:
The wanted list is issued by Interpol and its procedures are different from judicial coordination between states. With the release of the wanted list, the police in nations that have not signed repatriation treaties with Beijing can take actions against these Chinese fugitives via coordination with Interpol, thus further helping China. This has sounded an alarm to corrupt officials on the run overseas - even the safe havens will be dangerous for them.
Beijing News, April 23
Browsing the official Interpol site, one finds that more than 400 Chinese are already on its wanted list, most of them for suspected corruption. Interestingly, some of them are not officials, but officials' family members, such as wives or sons. That has much to do with the unique culuture of corruption in China: many corrupt officials tend to seek illicit income by involving their family members in their crimes.
People's Daily, via WeChat, April 23
To put fugitive corrupt officials on the Interpol wanted list is only the first step toward bringing them back to China to face justice. True, the police in foreign countries can detain the corrupt officials on the list temporarily, but according to domestic and international laws they can only be detained for between 40 to 60 days. During this period, China needs to collect enough evidence to prove they are guilty. A lot of work still needs to be done even though the wanted list has been released.
Huang Feng, director of the Institute of International Criminal Law, Beijing Normal University, April 23