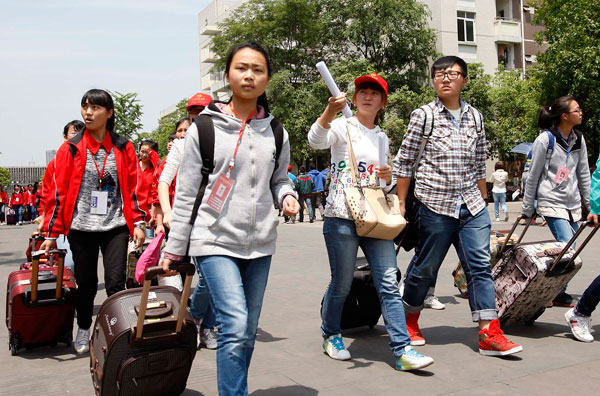 High school seniors from Tianquan county in Yaan, Sichuan, walk onto their new campus at Chengdu Normal University in Chengdu on April 24. The county's 1,019 students, affected by the magnitude-7 Lushan earthquake, will attend the national college entrance examination next month. Wang Ruobing / for china daily
On April 15, four leading Beijing-based universities, including Peking University, Tsinghua University, Beijing Normal University and Beihang University, released preferential recruitment plans to provide greater access to students from rural areas. Students with scores lower than the regular admission score could still be admitted as long as they meet requirements of the plans. Comments:
A preferential policy favoring students from poorer families is unlikely to serve as a fundamental cure for the wide education gap between the urban and rural areas of China, even if it is adopted by most universities and colleges nationwide. To enhance fairness in education, there needs to be more government expenditure on basic education in the less developed provinces, as much as that in urban areas.
Zheng Yuchuan, a guest commentator with rednet.cn, April 17
Those rural students who are lucky enough to gain admission through the policy will face even tougher competition on campus as they will be at a disadvantage in their interpersonal relationships. These are even more important than intelligence and require money. Without developing relationships with others, it will be hard for them to get a decent job after graduation.
Hao Hong, a guest commentator with Beijing Times, April 17
The preferential plans may be an effective way for China's top universities to recruit more undergraduates from rural areas ... Of course, a higher educational level in remote areas and reform of the country's undergraduate recruitment system remain the keys to achieving educational fairness.
Li Honglei, a guest commentator with Xinhua Daily Telegraph, April 17