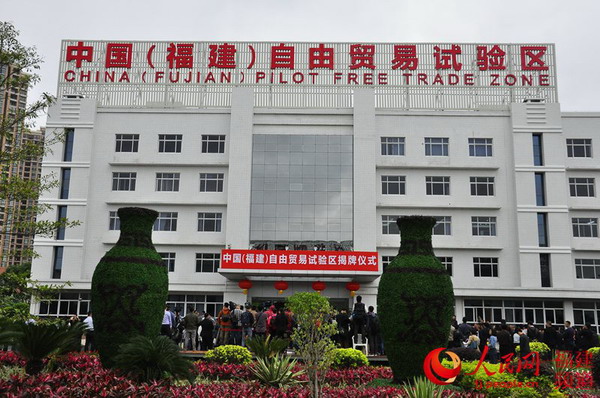 The launch ceremony of the China (Fujian) Pilot Free Trade Zone (FTZ) is held in Fuzhou, capital of Fujian province, on April 21. [Photo/people.cn]
Three new free trade zones in Guangdong and Fujian provinces, and Tianjin municipality - on the lines of the one in Shanghai - began official operations on Tuesday as China seeks to draw more international commerce. Comments:
The China (Shanghai) Pilot Free Trade Zone is the result of further reform and opening-up. With international investment conditions changing, the need for pilot FTZs has increased. The new FTZs will compare with the Shanghai one and provide more experience for further reform.
Xiao Lin, director of the Development Research Center of Shanghai Municipal People's Government, April 21
Some people fear the new FTZs could belittle the role of the Shanghai FTZ, because it will no longer be the only one of its kind. But that's not true. As more FTZs are built, their intertrade costs will reduce considerably, enabling them to earn higher revenues. It is like a meadow - the bigger the size, the better the grass will be.
Zhu Min, deputy director of the administrative committee of the China (Shanghai) Pilot Free Trade Zone, April 21
It is better to encourage FTZs to compete with each other in order to raise the competitiveness of the Chinese economy as a whole. With the FTZs becoming strong, China will be able to participate in key global trade negotiations and drafting of trade regulations in its favor.
Zhou Min, a researcher at the Chinese Academy of International Trade and Economic Cooperation, affiliated to the Ministry of Commerce, April 21
Being in the eastern coastal provinces, the four FTZs will help intensify China's economic interaction with the outside world. The authorities have made a smart choice by building all of them in the eastern region, which has richer trading experience and can provide lessons for other regions to learn from.
Zhang Zhanbin, a researcher on economic studies at the National Academy of Governance, April 21