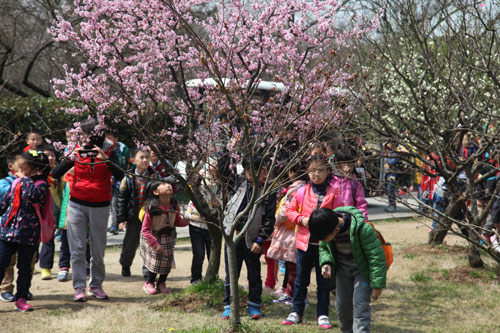 Children gather under a plum tree full of blooming flowers at Nanjing Plum Blossom Mountain.
One morning in March, I took Nanjing Subway line 2 and got off at Muxuyuan Station. After walking along the forest boardwalk by the avenue of Dr. Sun Yat-sen's Mausoleum for more than ten minutes, I arrived at the foot of Plum Blossom Mountain. Looking ahead, the plum trees were in full bloom all over the mountain. With such "a sea of fragrant snow," Nanjing Plum Blossom Mountain indeed lives up to its great reputation of "Mountain with the World's best plum blossoms."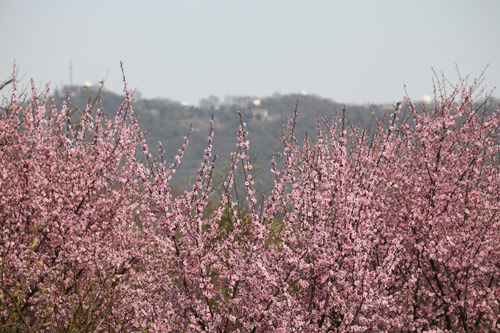 A sea of peach blossoms in Nanjing Plum Blossom Mountain.
Wandering along the mountain trail decorated by plum flowers interspersed with tea trees, I enjoyed the amazing plum flowers of various species. There are rare plum varieties among which are the world's unique species of plum flowers named "别角晚水(Bie Jiao Wan Shui)" in Chinese. Floral fragrances floated in the air. Some plum flowers were like clouds against the blue sky, some shone on green pines and were extraordinarily mettlesome and some showed their chic and elegant style with branches encrusted with starry flowers. What's more amazing is that some even had white and red flowers on the same branch.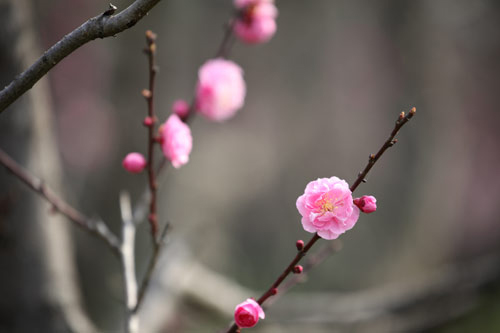 Plum blossoms at Nanjing Plum Blossom Mountain.
At the "Plum Blossom Pavilion," the best place to appreciate plum flowers on Meihua Mountain, I looked east and saw a hundred thousand jade-white branches. To the west stand the magnificent and spectacular mausoleums of the Ming Dynasty. I gazed afar and saw the majestic and verdant Zhongshan Mountain in the north; and the flourishing scene of blooming flowers and crowds of tourists in the south. The other side of the "Plum Blossom Pavilion" is the tall and elegant "Fraternity House", amidst myriads of plum flowers. Built with the donation of Zhang Pingzhao, a Taiwan compatriot, in 1993, the "Fraternity House" has 16 red columns, and is capped by a double-tier, cross-ridge roof which is very much like the roof of the Forbidden City Corner Tower in Beijing. The three Chinese characters—"博爱阁(Fraternity House)"—inscribed on the horizontal board are handwritten by Sun Yat-sen.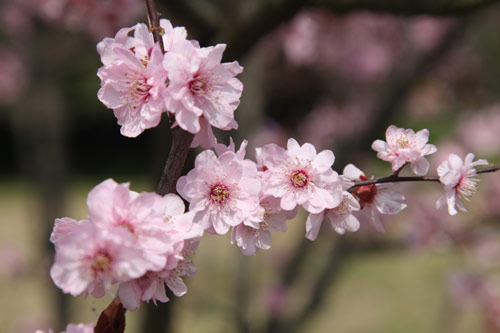 Plum blossoms at Nanjing Plum Blossom Mountain.
With a noble, unsullied character and elegant pose, the plum blossom is regarded as one of the "four gentlemen" of flowers in Chinese culture, together with bamboo forests, chrysanthemums and orchids. Plum trees had not been introduced to Nanjing until the Six Dynasties (220-589). In 1982, the plum flower was chosen to be the city flower of Nanjing. If you come to Nanjing in spring, you have to visit Plum Blossom Mou.