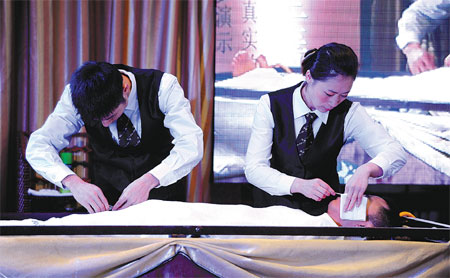 Employees display their makeup skills on a model at a funeral expo in Wuhan, the capital of Hubei province, in November. Li Xi / for China Daily
As this year's Qingming Festival, or Tomb-Sweeping Day, approaches, cheating in the funeral industry is rampant, according to Xinhua News Agency. Besides the exorbitant service-related items like cinerary caskets and flowers, some local funeral homes even use fake bodies and certificates to rake in huge profits from relatives of the dead. Comments:
To correct the misdeeds of funeral companies requires both professional supervision and reform of the country's funeral industry. For instance, the government is supposed to cover the cost of a basic funeral service, while non-basic items and services should be subject to fair market competition. Only by shaking up the industry can the cost of a funeral service be reasonable.
Zhou Keda, a researcher with the Guangxi Academy of Social Sciences, April 1
Those who overstate the uniqueness of the funeral industry in a bid to stall reform of the industry, make no sense at all, because collective corruption and illegal profit-seeking have been constantly exposed even under special supervision. The key to curbing the illicit business lies in a more open funeral industry in which administrative monopoly has no place.
Wei Yingjie, a guest commentator with Beijing News, April 2
Special as it might be, the funeral industry should spare no efforts to serve the public as it is designed to. Given the country's aging population, a better regulated funeral industry is needed to appease the increasing complaints made by relatives of the dead.
Zhu Changjun, a guest commentator with gmw.cn, March 27