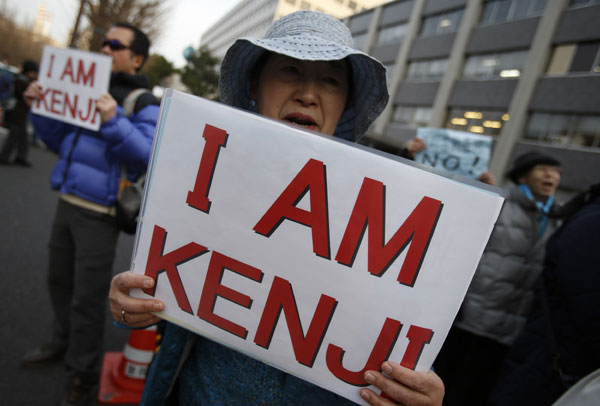 Protesters holding placards chant "Save Kenji" during a demonstration in front of the Prime Minister's Official residence in Tokyo, January 25, 2015.[Photo/Agencies]
In response to the recent beheadings of two Japanese citizens by Islamic State militants, Japanese Prime Minister Shinzo Abe said on Monday that he wanted to debate the possibility of rescuing nationals overseas when they were in danger. Comments:
Based in Iraq and Syria, extremist-led terrorism is spreading across the Arab world and even the entire world. For some Chinese netizens who are unhappy with Japan's latest diplomatic moves, their personal resentment against Abe should not influence their stance on the hostage crisis that his country has faced. The bottom line is, terrorism under whichever cloak is the enemy of all, and the IS group is a malignant tumor in the body of modern civilization.
Beijing Youth Daily, Jan 29
The hostage incident could have served as either a wake-up call or an excuse for Japan's military expansion. If Tokyo could heed the lesson from the loss of two lives and stop following Washington on the path toward militarism, then the wake-up call will have been heard. Should Abe take it as an excuse to revise the country's Constitution and deploy Japanese troops overseas, even in the Middle East, it will only inflict more harm on the Japanese people.
people.com.cn, Feb 3
Seeing China as an imaginary enemy, Japan has spent the majority of its diplomatic and security-related resources on "guarding" against Beijing's challenges. In reality, the recent hostage crisis should have reminded Tokyo that to a major trading nation challenges can come from anywhere, and it is on the same boat with China.
Global Times, Feb 2.