Horror in Japan as recording shows beheading of hostage
Appalled and saddened by news on Sunday of the apparent beheading of journalist Kenji Goto's by Islamic State extremists, Japan ordered heightened security precautions, but vowed not to give in to terrorism.
The failure to save Goto raised fears for the life of a Jordanian fighter pilot also held hostage.
The slaying of Goto, a freelancer whose work focused on refugees, children and other victims of war, shocked this country, which until now had not become directly embroiled in the fight against the militants.
"I feel indignation over this immoral and heinous act of terrorism," Prime Minister Shinzo Abe told reporters after convening an emergency Cabinet meeting.
"When I think of the grief of his family, I am left speechless," he said. "We are filled with deep regret."
Threats from the Islamic State group prompted an order for tighter security at airports and at Japanese facilities overseas, government spokesman Yoshihide Suga said.
"Kenji has died, and my heart is broken. Facing such a tragic death, I'm just speechless," Goto's mother Junko Ishido told reporters.
"I was hoping Kenji might be able to come home," Goto's brother, Junichi Goto, said in a separate interview. "I was hoping he would return and thank everyone for his rescue, but that's impossible, and I'm bitterly disappointed."
According to his friends and family, Goto traveled to Syria in late October to try to save Haruna Yukawa, 42, who was taken hostage in August and who was shown killed in an earlier video.
"He was kind and he was brave," said Yukawa's father Shoichi. "He tried to save my son."
"It's utterly heartbreaking," he said, crying and shaking. "People killing other people ... it's so deplorable. How can this be happening?"
Abe vowed not to give in to terrorism and said Japan will continue to provide humanitarian aid to countries fighting the Islamic State extremists.
But Suga said Abe would not link the crisis to his efforts to expand Japan's military role in "collective self-defense" with the US and other allies.
Japan's defense minister, Gen Nakatani, said the police agency deemed the video of Goto's killing "highly likely to be authentic."
US President Barack Obama led international condemnation of the "heinous murder".
"Through his reporting, Mr. Goto courageously sought to convey the plight of the Syrian people to the outside world," Obama said.
A spokesman for UN chief Ban Ki-moon said the "barbaric murder ... underscores the violence that so many have been subjected to in Iraq and Syria".
Paris and London also denounced the video, with British Prime Minister David Cameron saying it was "a further reminder that (IS) is the embodiment of evil, with no regard for human life".
AP - AFP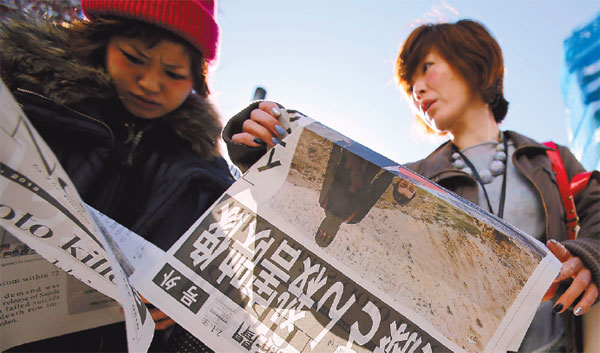 Women in Tokyo on Sunday read extra newspaper editions reporting the beheading of Japanese journalist Kenji Goto by Islamic State militants. Goto, the second Japanese hostage beheaded, was killed after the failure of international efforts to secure his release through a prisoner swap. Toruhanai / Reuters