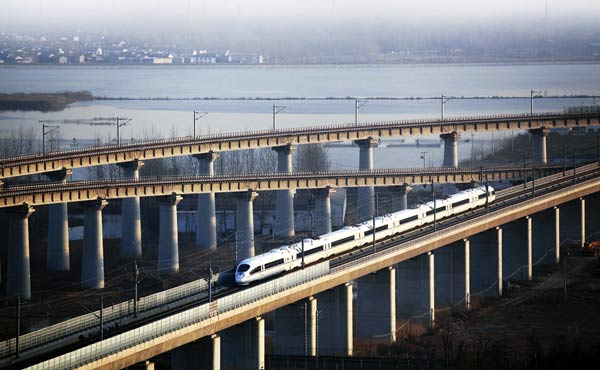 Photo taken in Xuzhou, Jiangsu province, Feb 8, 2014. [Photo by Chen Xiaodong/provided to chinadaily.com.cn]
The competition between two county-level cities in Henan province, Central China, to be a stop on a planned high-speed railway, is getting fiercer with mass demonstrations and appeals in the cities of Xinye and Dengzhou, urging local officials to act more firmly. This is only one of the several ongoing competitions nationwide for high-speed railways, which are widely considered to promote fast track development. Comments:
High-speed railways bring economic benefits, but in selecting the route the decision-makers also consider the existing economic development of candidate cities. A high-speed railway and a city promote each other and add value to each other. So, people of the two cities, please work hard to develop your hometown because that's more effective than demonstrating in the street.
Qianjiang Evening News, Jan 28
In principle, high-speed railways should follow straight lines and curve only to stop at cities above a certain size and with ample economic potential. Officials at county levels should support and obey the decisions of the provincial and central authorities, instead of trying to make the decisions themselves.
Wang Mengshu, a professor on tunnel and railway engineering at Beijing Jiaotong University, Jan 29
A railway can change the destiny of a city - there have been many examples of a village rising to become a provincial capital thanks to a railway, or a centuries-old city declining for lack of convenient transportation. That's why the competition for high-speed railways is so fierce. To pacify such competition, it is necessary to reimburse the cities that don't get a high-speed railway properly, so that residents there don't miss out on development opportunities.
Baotou Evening News, Jan 28
Some analysts say the local people are mad and selfish because they are trying to pressure officials to compete for the high-speed railway. The problem is, do they have any other choice? The decision-making process of selecting the routes for high-speed railways is not that transparent, because it is discussed by bureaucrats behind closed doors; in this case, people will of course urge their officials to be more proactive in winning a chance. It is bureaucratism that has compelled people to pressure the officials.
China Youth Daily, Jan 28