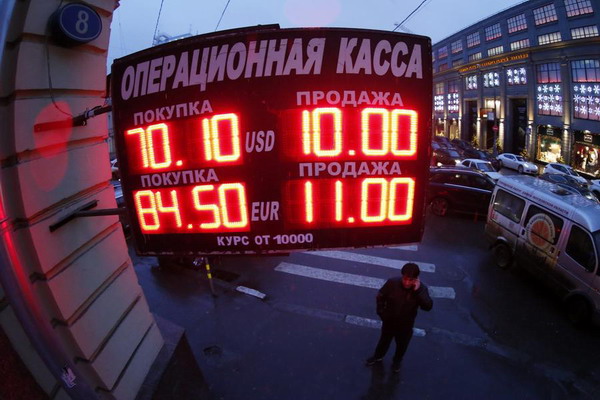 A man stands next to a building under a board showing currency exchange rates in Moscow, December 16, 2014. [Agencies]
But it's too early to say Russia needs China's financial assistance to tide over currency crisis despite fears of spillover effect on world economy
The plunging rouble has dealt a serious blow to the Russian economy despite the arrest in its tide in the last few days.
The rouble plummeted 14 percent last week, following a record one-day decline of more than 10 percent, the worst since the Russian financial crisis of 1998. This happened despite the Russian central bank's move to raise its benchmark interest rate to 17 percent from 10.5 percent on Dec 15, curb grain exports and impose informal capital controls.
The record drop shaved nearly 50 percent of the rouble's value against the US dollar and the euro since March. And despite Russia declaring on Thursday that its currency crisis was over - coupled with the warning that inflation seems set to climb above 10 percent - President Vladimir Putin's troubles are not yet history.
The severe depreciation of the Russian currency has, among other things, triggered a frantic buying spree in the country, which depends on imports for a large percentage of its commodity supply.
Many observers have even started worrying that Russia's rouble trouble could lead to a new global economic crisis in the following years. Yet by Dec 18 the rouble had rallied more than 10 percent to about 60 per dollar thanks to the temporary rise in global oil prices and Russia's Finance Ministry, which began selling its excess currency reserves a day earlier. That could be seen as a silver lining on the country's troubled economic horizon.
Although the rouble's performance in the past two years was far from impressive, its dramatic drop this month has rattled Russia. A slew of external and internal factors have contributed to the situation.