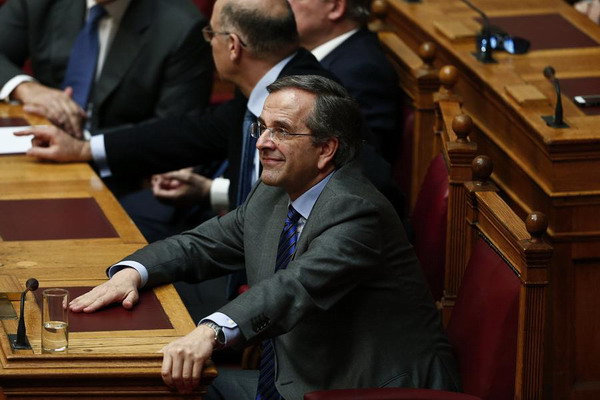 Greece's Prime Minister Antonis Samaras smiles during the second of three rounds of a presidential vote at the Greek parliament in Athens December 23, 2014. [Agencies]
The holiday season has brought cheers back to Greece and the rest of Europe. A country that had been hitting the headlines for six years because of its sky-high public debt and shocking fiscal deficit, which nearly forced the government to go bankrupt, has seen the proverbial light at the end of the dark tunnel. It seems the days of tight fiscal policies, which forced many businesses to close down and rendered many people jobless, and dropping credit ratings are finally over for Greece.
After six agonizing and painful years of recession, the Greek economy is about to bid adieu to negative growth, as the European Commission has forecast that it might grow by 2.9 percent in 2014. Better still, maintaining the pace in 2015, the Greek economy could grow by 3.6 percent in 2016.
Greece's economy had been sliding since 2009 compelling it to revise its ratio of public debt to a shocking level. The country's five depressing annual GDP readings are - 3.1 percent in 2009, - 5.4 percent in 2010, - 8.9 percent in 2011, - 6.6 percent in 2012 and - 3.3 percent in 2013. Some economists say this is unprecedented since the end of World War II.
Since being posted in Brussels more than four years ago, I have visited Greece five times. I remember how hopeless the Greeks felt during my first visit in the fall of 2010. Shopping had become an alien term and eating out a big no-no for most Greeks. Athens, the capital, was considered unsafe because of the high jobless rate and the resultant increase in crimes. Some financial department officials I talked with during those days even told me that Greece didn't have a complete name list of taxpayers, nor did it have enough employees to collect taxes.