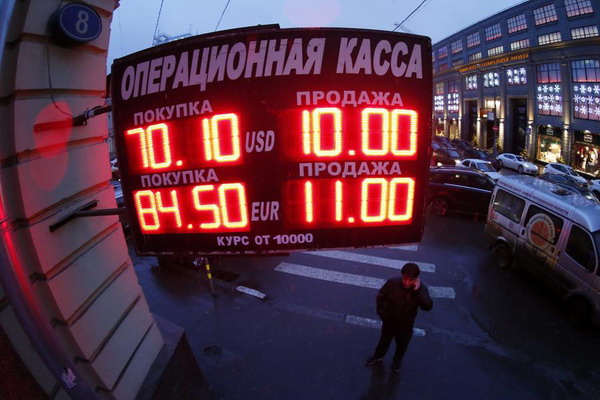 A man stands next to a building under a board showing currency exchange rates in Moscow, December 16, 2014. [Agencies]
Russia no doubt is facing a make-or-break moment after its currency rouble nosedived more than 25 percent on Tuesday. China should learn from its neighbor capital control, said Chinese experts on sina.com, a portal website of China, where they analyzed the downfall of the currency. Following are excerpts:
To stem its losses, Russia's central bank hiked rouble's interest rate from 10.5 percent to 17 percent on Tuesday. But that has not halted the continuous slump of the currency. In the past two days, it has fallen about 25 percent against the US dollar. Russia needs to take timely action to curb the rouble's fall from evolving into a financial crisis.
The interest rate hike is the largest single increase since 1998, when the Russian government defaulted on debt. Russian President Putin said earlier this month his government will not let the rouble become a target for international financial speculators, and would take measures to exert influence on the speculators.
The hike in interest rate seems the measures mentioned by Putin so far. But history indicates that interest rate surge cannot solve fundamental problems. A higher interest rate will weaken investors' confidence in the Russia's economy.
There are four reasons behind Russian currency's recent slump against the US dollar. To overcome the current crisis, Russian authority needs to pay special attention to combine short- and long-term solutions.
First, the continuous fall of global oil price has weakened Russia's export by a large margin. Despite tensions in the Gulf, the main oil producers of the Organization of Petroleum Exporting Countries do not intend to reduce their production, partially to counter the influence of the United States' development of shale gas. It will take a long time to reverse the falling trend of the oil price.