Late last year (2013), President Xi Jinping launched the New Silk Road Economic Belt and the 21st Century Maritime Silk Road to deepen reform and further open up China to the rest of the world. The initiative sounded interesting and timely and many of the countries in the neighborhood of China soon extended their support to it. However, they needed to have more in-depth knowledge about the initiative, its different aspects, and its purposes. The countries needed to weigh carefully the geopolitical, economic, financial and other implications of this Chinese initiative for them.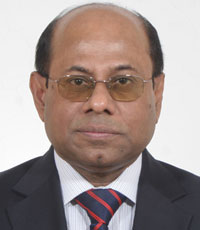 Muhammad Azizul Haque
As diplomats in different missions in Beijing, we also needed to have full comprehension of the initiative. So, the trip organised by the Foreign Ministry of China for us to revisit the Silk Road was considered very timely and an opportunity for us to acquire first-hand knowledge and insight into the initiative. And indeed our 10-day visit to the central and western regions of China, through Shaanxi & Gansu Provinces and Ningxia Hui Autonomous Region, our participation in seminars and symposium, our trips to different enterprises, industrial development zones and parks, companies and markets, listening to and discussion with academics, experts, officials and leadership of those provinces and region, have indeed helped us gain useful insight into and comprehension of the philosophy, concept and spirit of the great Chinese initiative.
Views & comments on the 'One Belt One Road' initiative & benefits out of it
To me the 'One Belt One Road' initiative of China embodies China's vision for itself and the rest of the world for the 21st Century. The initiative symbolizes China's vision for global peace and development through establishment of intensive physical and other forms of connectivity as well as cooperative ties between China and the countries across Eurasia, Africa and beyond, as expressed through this initiative and through President Xi Jinping's Major Power Relationship Model launched last year during his visit to the USA. I believe China took these major initiatives of global reach from a deep realization and conviction that understanding and peace between countries cannot be achieved without connectivity and cooperation between them and that continued peace and stability in relations are sine qua non or prerequisites for all round development of every country of the world.
China is currently the second largest economy of the world and on the way to soon become arguably its largest economy. I discern that China as a major power of the 21st century with global clout is fast assuming its global responsibility in an era labeled as "the China-led Asian Century". China has a dream of rejuvenating the great Chinese nation and to pull its entire population above the poverty line and to ensure a fairly high level of socioeconomic development soonest possible. However, no country can develop in isolation in the present world. No country alone can ensure peace and stability in and around it. The present era is the era of collective development through collective and concerted efforts of nations. Hence is China's above initiative of global reach.
China's bid to assume global responsibility is amply clear from its endeavours to ensure peace, stability and development of China and the rest of the world. This is evident in China's efforts and roles in the proposed establishment of Asian Infrastructure Investment Bank, BRICS Bank, SCO, Conference on Interaction and Confidence Building Measures in Asia (CICA), etc.