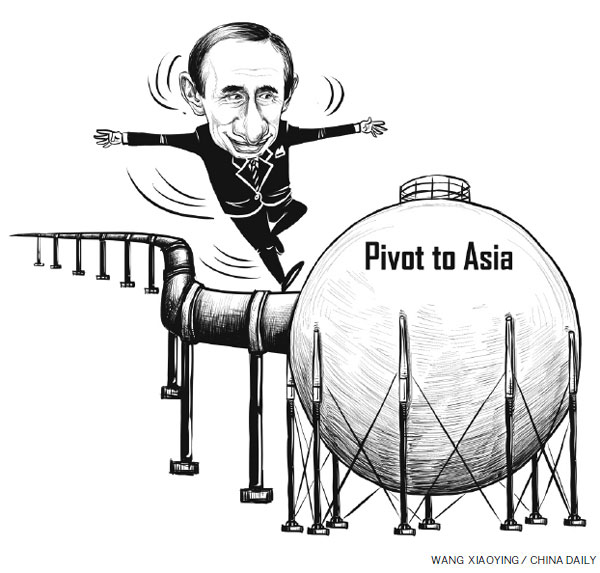 The $400-billion, 30-year natural gas deal just announced by China and Russia is the biggest single trade agreement in history. With this deal, Russia has signaled a major and sharp pivot of its economic and strategic focus to Asia. Russia's "pivot to Asia" and dramatically enhanced relations with China, which this deal and related agreements signify, will have substantial long-term implications for Asia and more broadly for the Asia Pacific region.
China had signed the previous largest natural gas deal with Australia a dozen years ago, worth just $25 billion, the deal runs through to the end of the next decade.
Although accelerated because of some actions taken by the US against Russia and China, the Moscow-Beijing deal has been a decade in the making - and its significance extends far beyond the immediate time horizon.
Important for Russia, the agreement includes a base price formula with reference to oil prices. This is something China had been resisting tenaciously, just as Russia was strenuously holding out for an oil reference price formula to price its gas supply. Through negotiations in the past few weeks, and indeed right up to the final agreement, this was the key, final sticking point.
The pricing of Russia's very substantial natural gas sales to Europe is based on an oil price reference formula. Given the high oil prices, the oil-based price formula for natural gas allows Russia to sell its gas at a higher price than if it were based on spot-market natural gas prices.
Russia is determined to protect this price formula. And had Russia failed to do so with China, Western European countries would have immediately demanded a revision of their natural gas supply contracts with it. In this sense, the agreement is a big breakthrough for Russia.
Beijing and Moscow have said the price will remain a "commercial secret". But it is thought that, in exchange for China having accepted an oil-related price formula, which it had never done before, Russia has agreed to keep the initial price close to what China had been proposing. The agreement includes that Russia cover $70 billion in upfront spending on infrastructure, while China pays $22 billion. Earlier in the negotiations, Russia had proposed a 55:45 split of upfront commitments.
Gas will start flowing into China by 2018, which is significant because it would take another three-to-four years for North American natural gas to be available for shipment to Asia. As part of the agreement, Russia has also accepted the doubling of its oil exports to China to about 1 million barrels a day.