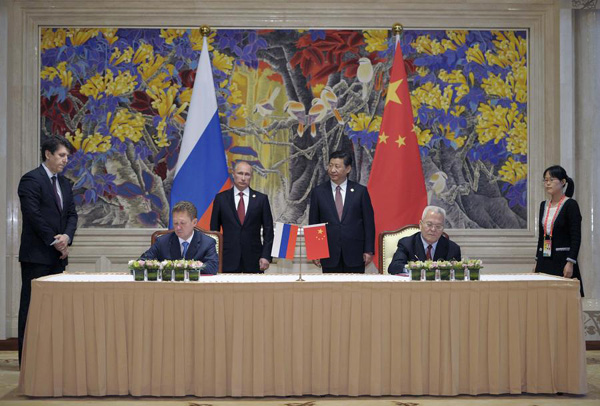 Russia's President Vladimir Putin (3rd L) and China's President Xi Jinping (3rd R) look on as Gazprom CEO Alexei Miller (2nd L) and President of China National Petroleum Corporation (CNPC) and Chairman and President of PetroChina Zhou Jiping (2nd R) sign documents during a ceremony in Shanghai May 21, 2014. [Photo/Agency]
PetroChina's CEO Wang Dongjin has said on May 22 that the advance payment issue concerning China-Russia gas deal was not mentioned in the agreement and is likely to be addressed in the next discussion,according to 21cbh.com.
The multi-billion deal has been under negotiation for nearly 10 years and was finally reached on May 21. It was signed by Zhou Jiping,chairman of PetroChina,and Alex Miller, CEO of Russia's Gazprom.
However,the details are still to be worked out,and some issues were not mentioned in the final deal,according to Wang.
He added that the advance payment process is a complicated issue that needs approval of government agencies,so both parties might discuss it in the next round of talks.
The purchase price was "very competitive" in the future Chinese natural gas market,said Wang.