For years, Chinese people and experts on China have known well the official line of "further opening-up". Now they might as well get used to the subtle but distinct change in its wording, as the Communist Party of China and the government have in recent years repeatedly pledged to build an open economy.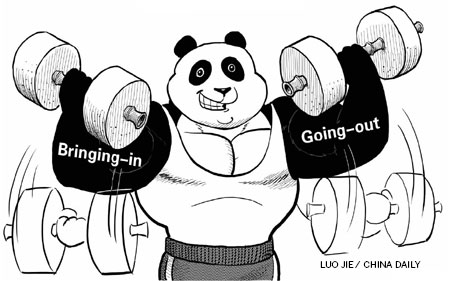 The Communique and the Decision on Major Issues Concerning Comprehensively Deepening Reforms, issued at the end of the Third Plenary Session of the 18th CPC Central Committee, reiterate that China would develop a new open economic system, adapt to the trends of globalization and better combine "bringing-in" and "going-out" investment approaches.
The most important way of implementing the reform and opening-up policy is not to draft a huge list of measures, but to clearly define the fundamental goal and basic guidelines. On one hand, China will intensify the opening-up drive to invigorate its social and economic systems, and realize sustainable economic and social development. On the other, China intends to, through further opening-up, make full use of the external resources to better position itself in the global division of labor and on the international profit ladder.
Since furthering of the opening-up drive is not an end but a means toward the pursuit of national interests, China must have the final say on issues such as the order of and extent to which relevant areas will be opened up further, and whether there are prerequisites for doing so. This point can never be over-emphasized because, in practice, many people mistake the opening-up drive as an end in itself and thus fail to see the importance of the pursuit of national interests.
The substance of the opening-up drive can never remain unchanged. Reform and opening-up started in the coastal regions in the late 1970s, and mainly involved commodity trading and direct investment. Today, reform and opening-up cover the entire country, and the focus of further opening-up will gradually shift to the service sector, and direct and portfolio investments in high-end manufacturing.
The country remains committed to opening its market wider to the outside world, but now it is in growing need of wider access to the markets of its trading partners.