There is some optimism that land reform will have breakthrough progress at the Third Plenary Session of the 18th Communist Party of China Central Committee. However, there is a strong possibility that this optimism will be doused with cold water.
It is not that there will not be a major land reform plan, but rather it will fall short of the radical, concrete reforms necessary to solve the problem once and for all.
According to Chinese laws, all land is owned by the State and farmers only have the right to use it under a long-term lease from the government.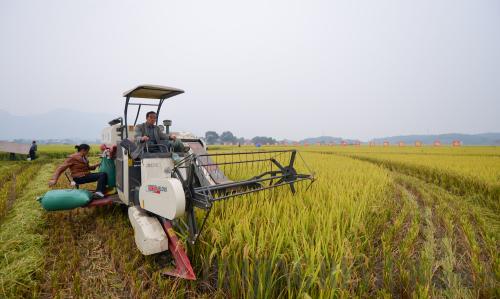 A farmer harvests rice in Yongzhou, Hunan Province [Photo / Bai Yu]
Given the large number of farmers - about 900 million based on the household registration system - each farmer ploughs a very small piece of land, thus limiting the overall efficiency of farming.
By allowing farmers to transfer their land use rights, those small pieces of farmland could be merged and become more suitable for efficient large-scale modern farming methods.
Meanwhile, soaring urban house prices in recent years have prompted local governments to requisition land from farmers and resell it to developers for a handsome profit. Farmers generally have no option but accept such one-sided deals.
By empowering farmers to transfer their land use rights, a policy that is highly anticipated from the Third Plenary Session, farmers would have more say in land transfer deals and benefit from higher returns.
As the plenum draws near, State and private think tanks have organized a number of high-profile forums to discuss the country's urbanization policy, including that of rural land transfer.