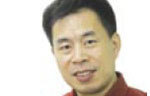 The United States is a jarring contrast between liberals and conservatives.
President Barack Obama talked passionately about gay rights and other liberal ideals in his inauguration speech on Jan 21. But during his speech, a man perched in a tree just behind where I sat and not that far from the Capitol building, kept shouting anti-abortion slogans. He called Obama a "baby killer" and held up a sign that read: "Pray to end abortion."
Four days later, on Friday morning, when I arrived at Woodley Park subway station, I was shocked to see some 100 teenage students holding anti-abortion slogans and gruesome fetus pictures. They were on their way to the National Mall for the so-called March for Life.
This year marked the 40th anniversary of the Roe v. Wade case in 1973 when the Supreme Court legalized abortions. Opponents have staged an annual march in Washington ever since.
Out of the subway and walking on a downtown street, I saw a group of teenagers, led by two adults, protesting outside a Planned Parenthood center. A woman, clearly angry at the scene, shouted from across the street, accusing the two men of using those children to scare away women who need the services there.
However, the crowd grew bigger as I walked past Pennsylvania Avenue toward the National Mall. With the gray sky and freezing weather that day, it looked like a movie setting for the Dark Ages.
Conservatives such as Rick Santorum, who ran as a Republican presidential candidate, made speeches at a rally in front of the Supreme Court. However, I doubt if the large number of teenagers, many organized by religious groups, had any idea what they were really about.
A Pew Center survey released a week ago shows that 25 percent of Americans see abortion as morally wrong and would like to overturn the Roe v. Wade ruling, 18 percent think abortion morally wrong but don't want to completely overturn the decision, and 42 percent don't see abortion as morally wrong.
The Republican Party platform unveiled last year states that an unborn child has a fundamental individual right to life that cannot be infringed.
However, abortion has long been a reality and is accessible to women in most parts of the world. Even in the US, more than 1 million abortions are conducted each year, according to the Center for Disease Control.
Women choose an abortion for a variety of reasons, such as to delay childbearing, because they are unable to afford a baby, not to become a single parent and not to disrupt their education or job, or because they have been raped.
Yet for the protesters last Friday, abortion is a sin, equivalent to murder. Of course, no one, not even Santorum, has talked about punishing the women that do have an abortion. In the name of protecting lives, these protesters try to deny women the right to decide about their own bodies.
I interviewed teenage mothers in the US back in 1998 and still remember the sad stories and hopelessness expressed by the girls, most of whom had a poor family background.
While fewer Americans want to overturn Roe v. Wade these days, the past two years have seen some 135 state-level restrictions on abortions introduced. Meanwhile, the number of abortion clinics in the US has declined. And 87 percent of US counties don't even have a clinic. In North Dakota, South Dakota, Arkansas and Mississippi, there is only one abortion clinic for the entire state. This has put women's lives in danger.
Obama must fight back by leading a pro-choice march to protect the rights of American women and to enlighten the throng of teenage students in last Friday's march.
The author, based in Washington, is deputy editor of China Daily USA. chenweihua@chinadailyusa.com
(China Daily 02/01/2013 page8)