Sister ports
Updated: 2012-03-07
10. America – Port of Tacoma in the United States of America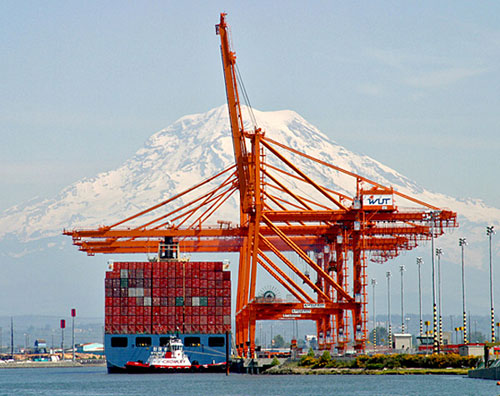 The Port of Tacoma began operations in 1918. It is located in Washington state in northwestern US. The area covers 3,100 acres. The port is a natural deepwater port, which handled 1.09 million TEU in 2002, ranking seventh among the container ports in North America.
Due to construction of three terminals, container throughput rose to 2.97 million TEU, up 14.8 percent year on year, ranking 47th globally. Throughput of foreign goods grew by 20.3 percent. The port is the most important trade gateway to the Pacific Rim for the US. Its top five trade partners are the Chinese mainland, Japan, Chinese Taiwan, South Korea and Thailand.
The port is also a gateway to Alaska and undertakes 80 percent of domestic water shipping there. In addition to containers, major cargo that are handled include: automobiles, timbers, grain, fruit, and aluminum and wood boards.
Its top management team is the Tacoma Port Commission. The commission consists of five members elected by citizens of the prefecture. The commission appoints a director.
Three important terminals are: Pierce Terminal operated by Evergreen, Husky Terminal operated by K-line, and Olympic Terminal operated by Yang Ming. It plans to expand 141.16 hectares for a container terminal on the east coast of Blair.
The port transports 70 percent of its goods to the Eastern US through the railways. The main mission for the Tacoma Port Authority is to strengthen links with the inland economy of the country to accelerate construction of railways and the sea-railway transport.
After infrastructure facilities for the sea-railway transport were completed in 2010, traffic congestion was alleviated. Meanwhile, the port authority will invest in the railway operation system. Average annual throughput is expected to increase by 20 percent.
Contact: Director Andrea Riniker
Tel: +1 25 33835841 Fax: +1 25 33839440
E-mail: ariniker@portoftaoma.com
Http://www.portoftacoma.com