Chinese port launches first blockchain customs system
(chinadaily.com.cn)
Updated: 2019-06-24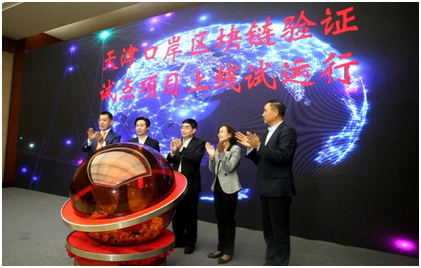 Launching ceremony of Tianjin Port blockchain pilot project in Tianjin on April 17.
The Tianjin Port blockchain pilot project, an initiative using blockchain technology in cross-border trade, was launched April 17 in Tianjin.
The project is being led by WG (Tianjin) Technology Development in the Dongjiang port area, and is considered China's and the world's first port to integrate blockchain technology into trade systems.
This will include confirmation of rights, certificates of bills, trading, finance, logistics, and supervision.
WG Tech will pilot the project in ocean shipping and air transportation with the TBC Trade Express platform.
The platform will manage the entire process, including overseas sellers, export customs clearance, overseas warehouses, finance, insurance, shipping vendors, inspections, import customs clearance, domestic warehouses, logistics, freight forwarders, and buyers.
This project is considered an international first for WG Tech.
Chen Zhiyuan, WG Tech president and CEO, said the company has initiated partnerships with ICBC, Tewoo Group, Zhenhua Logistic Group, China Inspection and Certification Group, China Silk Road Group, PICC, CPIC, and Huaxia Bank.
Together they have established the Block Chain Cross-Board Trade Promotion Association to promote the development of the TBC trade express ecosystem.
WG Tech will now commence work connecting customs in China with other countries, the internationalization of renminbi , the establishment of a multilateral free trading system and integrity trading system, and the globalization of commodity traceability.
Wu Youyi, General Administration of Customs PR China chief engineer, Nik Mazahid, Malaysian embassy in China customs counselor, Yan Lijin, China-Pakistan Economic Corridor Committee co-chairman, and Xu Zengde, China Inspection and Certification Group president and Party committee secretary attended the launch ceremony.
Also among the attendees were officials from the General Administration of Customs PR China, Tianjin customs, and local government departments of the Tianjin municipal administration.