This Day, That Year: June 24
(China Daily)
Updated: 2019-06-24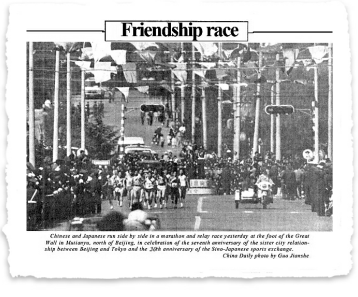 On June 24, 1973, Tianjin and Kobe, Japan, signed a sister city agreement. It was the first such agreement between a Chinese and foreign city.
Since then, more than 250 pairs of cities in China and Japan have established similar ties, according to the Chinese People's Association for Friendship with Foreign Countries.
Altogether, about 500 Chinese cities and provinces have established more than 2,570 sister relationships with cities in 136 countries and regions.
In March, 1979, Beijing and Tokyo became sister cities.
An item on April 21, 1986, from China Daily showed runners from China and Japan participating in a marathon in Beijing to mark the seventh anniversary of the special relationship.
In 1980, the Port of Kobe established friendly ties with the Port of Tianjin. Five years later, the Kobe Trade Information Office was established in Tianjin. The cities have focused on business and youth exchanges, as well as cooperation for urban problem solving.
In 2008, the first China International Friendship Cities Conference was held in Beijing. It convenes every two years, with the next gathering to be held in Kunming, Yunnan province, next year.
During the 2018 China International Friendship Cities Conference in Wuhan, Hubei province, three Chinese cities and one province signed agreements to establish friendly relations with their counterparts in Mongolia, Thailand, Kenya and Canada.