Sister ports
Updated: 2012-03-07
9. America – Port of Philadelphia in the United States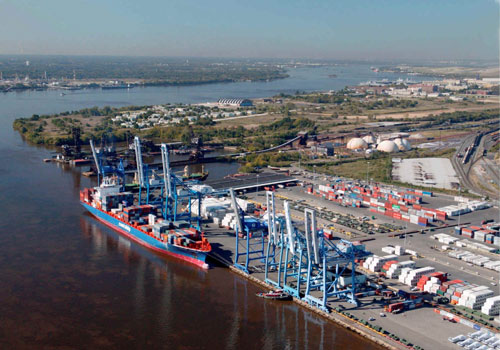 The Port of Philadelphia, within the municipal boundaries of Philadelphia, Pennsylvania is located near the navigable end of the Delaware River, 94 miles (151 km) south of New York City and 134 miles (216 km) north of Washington, D.C. Port facilities are serviced by three Class I railroads: CP Rail, CSX, and Norfolk Southern and provide service to major eastern Canadian points as well as Midwestern, Southern and Southeastern U.S. destinations. Terminal facilities are located in close proximity to I-95 and I-76 highways, and over 400 local trucking companies operate in the region, with a combined total of over 20,000 trucks.
The port consists of a series of marine terminals, each with specialized capabilities. The port itself claims that it is the top perishables port in the United States. The combined ports along the Delaware River, which include Philadelphia and Wilmington, together rank third in the U.S. for steel imports and are among the nation's key entry points for forest products and cocoa.
The port is currently served by two cruise lines: Royal Caribbean International and Norwegian Cruise Line, though both lines have more frequent sailings out of the port of Baltimore, which is closer to the outlet for the Atlantic Ocean, and enables ships to reach international waters (and therefore open their casinos) more quickly than when sailing from Philadelphia.