In the face of the unexpected COVID-19 pandemic at the beginning of 2020, POWERCHINA actively demonstrated the social responsibility expected of a State-owned enterprise. It is one of the world's largest and most internationalized power construction companies and serves as an important role model for Chinese companies looking to go global.
On Oct 23, 2020, POWERCHINA was awarded the title of "Advanced Group of Central Enterprises in Fighting against the Epidemic" at a commendation meeting held by the State-owned Assets Supervision and Administration Commission (SASAC) of the State Council.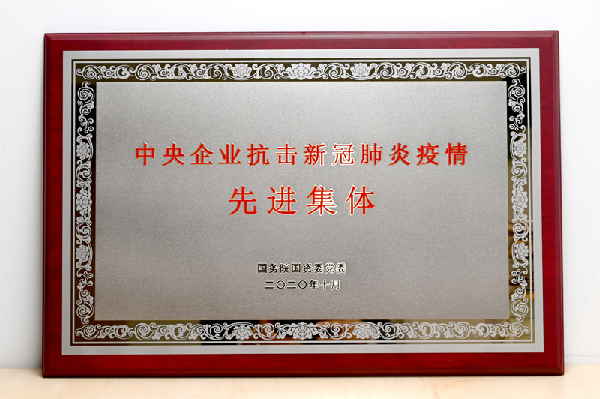 POWERCHINA is awarded the title of "Advanced Group of Central Enterprises in Fighting against the Epidemic" by SASAC on Oct 23, 2020. [Photo/POWERCHINA]
Starting Jan 22, 2020, POWERCHINA began to issue early warning notices and disease prevention knowledge to various foreign agencies. The company also made careful and detailed arrangements for the organization and leadership of overseas pandemic prevention and control.
POWERCHINA relied on its global market network advantages to urgently purchased disease-control medical materials and rushed to help Hubei province to fight the disease outbreak in early February.
In the Americas, as the pandemic in Latin America and the Caribbean continued to spread, POWERCHINA contacted local hospitals able to diagnose and treat pneumonia and purchased a three-month supply of anti-COVID-19 materials in advance.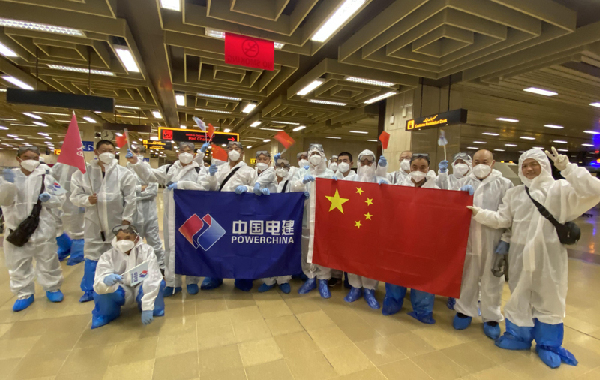 POWERCHINA's returning employees pose for a photo. [Photo/POWERCHINA]
Meanwhile, POWERCHINA's overseas projects have made smooth progress. On May 13, POWERCHINA signed a contract for Pakistan's largest water conservancy project -- the Diamo-Basha Dam project. The deal's signing kicked off the establishment of a landmark project for friendly cooperation and mutual benefits between China and Pakistan.
On Aug 4, the company won the bid for the New Niefang Hospital project in Equatorial Guinea, which is the first medical assistance project to be conducted by China in Equatorial Guinea. On Nov 20, the Kafue Gorge Lower Hydro Power Project in Zambia completed the water storage phase, paving the way for the first unit to generate power.
Starting in June, POWERCHINA began to character flights to help employees to return to overseas projects.
The total number of POWERCHINA employees who've returned to work and production at overseas projects has exceeded 10,000. Meanwhile, the total contract value of overseas projects that have resumed work accounts for more than 98 percent of the total contract value of projects under construction.
POWERCHINA has also actively donated pandemic prevention and control supplies abroad, including masks, protective clothing, temperature guns, disposable gloves, disinfectants and goggles.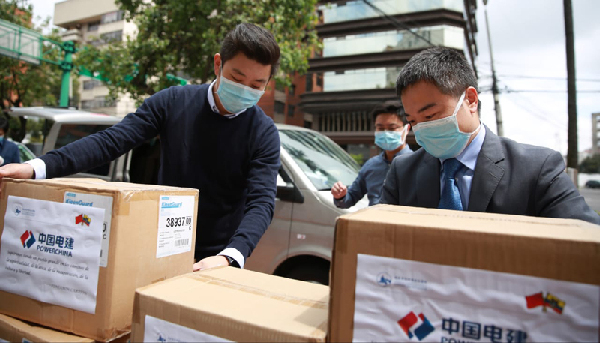 POWERCHINA donates pandemic prevention and control materials. [Photo/POWERCHINA]
Moving forwards, POWERCHINA will continue to promote the construction of its projects while doing a good job in pandemic prevention and control.