On June 5, Evo Morales, the President of Bolivia, visited POWERCHINA's San Jose Hydropower project and expressed his satisfaction with how the construction was coming along.
After Morales' inspection of the construction sites for a diversion tunnel and dam, he said that the San Jose hydropower project had made great strides in its development since his last visit. POWERCHINA has meticulously planned the development of the project and pro-actively put forth and optimized the design plan.
Morales stressed that the people of Bolivia had been looking forward to the construction of the San Jose hydropower project for the past 40 years. It is the largest hydropower project in Cochabamba and comparatively large in scale in respect to the whole country. The President said he believes that the construction will be completed successfully and contribute to the realization of Bolivia's goal to be the energy center of South America.
With a total investment of $125 million, the San Jose hydropower project located at the 85 kilometer point of the No. 4 national highway of Bolivia will generate 124 megawatts of electricity for the country.
At present, POWERCHINA is actively optimizing the organizational design of the construction site to restructure resource allocation. The pavement of concrete has accelerated and a branch of the No.1 diversion tunnel will be completed soon. The expected fulfillment of the contract will lay a solid foundation for the market development of POWERCHINA in Bolivia.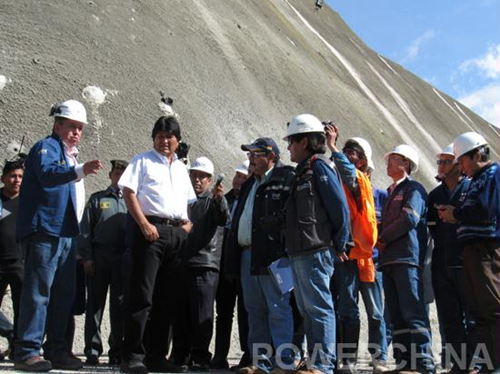 Bolivia President Evo Morales inspecting the construction site