The Kirirom III No.3 Hydropower Station, located in the KOH Kong Province of Cambodia, was recently put into operation. The ribbon cutting ceremony of the Project was held on February 23, 2013 in the power station area. The Project was investigated and designed by HYDROCHINA Mid-South Engineering Corporation (MSDI), a subsidiary of POWERCHINA, and financed by State Grid of China.
Hun Sen, Cambodian Prime Minister, Pan Guangxue, Chinese ambassador to Cambodia, and Pan Xiaojun, Representative from State Grid attended the ceremony and cut the ribbon of completion of construction work of the Project. Hun Sen addressed the gathering and pointing out that the safe and reliable operation of the hydropower station will effectively mitigate the power shortage in Cambodia.
Kirirom hydropower station is 160km to the capital Phnom Penh. The total installed capacity of the project is 18MW. The construction work of the power station started in March, 2009, and the project was commissioned in April 2012, and put into commercial operation in Sept 2012. By the end of 2012, the hydropower station had generated 80GWh of energy.
The Kirirom III hydropower station is one of the six hydropower projects constructed by Chinese companies on BOT basis. The other 5 projects are Kirirom I Hydropower station, Keng Kang hydropower station, Elesai hydropower station, Wodai hydropower station and Da Dai Hydropower Station. After completion, the 6 projects will have a combined annual output of 928MW for Cambodia.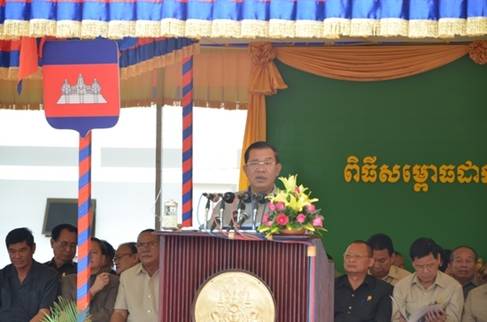 Hun Sen, Kampuchea's Prime Minister Addresses the Ceremony