Huge typhoon barrels toward China's east coast
( China Daily USA )
Updated: 2015-07-13
China's eastern coast was on maximum alert as super - typhoon Chan-Hom was predicted to make landfall between Zhejiang and Fujian provinces, blasting the regions with torrential rains and winds.
The National Meteorological Center issued its highest alert on Friday morning, after the typhoon's center was spotted off the coast 395 kilometers southeast of Wenling, Zhejiang province, at 2 pm.
The typhoon was forecast to intensify as it made contact with land on Friday night or Saturday with winds of up to 209 kilometers per hour.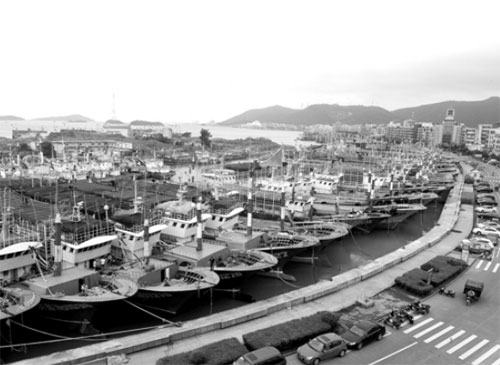 Fishing boats anchor in a port in Daishan county, Zhejiang province, on Friday, to shelter from Typhoon Chan-Hom, which is predicted to make landfall on Saturday. Shen Lei / For China Daily
The strongest typhoon that has made landfall in Zhejiang so far was the Typhoon Saomai in 2006, which claimed 483 lives. It had wind speeds of 200 to 220 km/h.
The meteorological center said Chan-Hom's strength may ebb gradually after making landfall and moving north. It is expected to sweep across Zhejiang, Shanghai and southeast Jiangsu through Sunday afternoon, packing winds and heavy rain that will also affect neighboring Anhui and Fujian provinces. East Zhejiang may suffer severe rains, with precipitation estimated at an extreme 250 to 300 mm per hour.
The Ministry of Civil Affairs required subdepartments in the affected areas to stand by round-the-clock and publish timely warnings. Residents were advised to purchase and store daily necessities for one to three days.
Shanghai took various precautions to prepare for the upcoming storm. All scheduled bullet trains on Friday and Saturday running between Shanghai and the coastal cities of Fuzhou, Xiamen, Shenzhen and Guangzhou have been suspended, along with the high-speed trains to Wenzhou and Cangnan county in Zhejiang.
Metro Line 16, which meanders through the coastal suburb of Pudong New Area, will apply speed-limiting measures to its trains running above ground, or even on the ground if winds remain lower than 62 km/h. They will be taken out of service if the winds reach 89 km/h.
In Zhejiang province, coastal cities, including Wenzhou and Taizhou, have raised the typhoon alarm to the top level, which requires all outdoor activities to cease. People living and working in dangerous areas will be evacuated, and all ships and boats must return to ports.
In Taizhou, 120,000 people, including local officials and armed police, formed 6,700 teams - an average of 18 people per team - to deal with emergencies when the typhoon hits.
Hu Yaowen, director of the Zhejiang Provincial Flood Control and Drought Relief Office, said the province has checked dangerous areas along the coastline to make sure that damage to local residents will be minimized.
"By 11 am, a total of 203,534 people were evacuated, and 27,997 ships are anchored in ports. We are trying to reach the goal that this typhoon causes zero deaths," he said.
Hu said that since the typhoon will hover over the province for two to three days, geological hazards including landslides and mudslides may become major threats.
Another typhoon, Nangka, that has formed in the northwest Pacific Ocean is expected to move northwest and is unlikely to strike the country.
Typhoon Linfa, the previous typhoon to hit China, made landfall in Guangdong province on Thursday, bringing torrential rains to the coastal area. No casualties were reported.
Contact the writer at zhouwenting@chinadaily.com.cn
(China Daily USA 07/13/2015 page5)