Heilongjiang eyes senior care clients from Fujian
( chinadaily.com.cn )
Updated: 2015-06-18
An alliance of senior healthcare providers from Northeast China's Heilongjiang province came into Fujian on Wednesday hoping to find local clients, people.com.cn reported.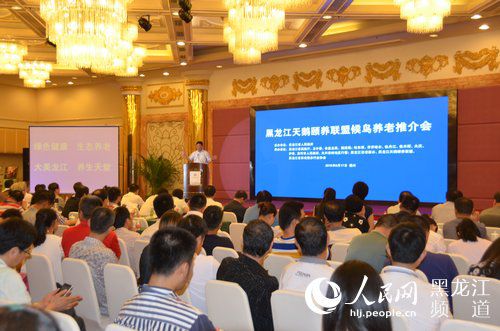 A promotion event featuring "migratory bird" senior care service in Heilongjiang province is held in Fuzhou, capital of Fujian province, June 17. [Photo/people.com.cn]
The first alliance led by a government, the Heilongjiang Swan Senior Care Federation is said to have enrolled more than 300 units from 14 provinces.
The number grew even bigger after the alliance signed a string of partnership deals with many Fujian senior care service providers including senior homes, nursing centers and apartments for the aged, who agreed to send elderly people to Heilongjiang for "migratory bird senior care".
"Migratory bird senior care" refers to an emerging lifestyle for the elderly, who travel to different places seasonally, just like migratory birds, to enjoy care service.
Heilongjiang, the northernmost province in China, boasts a number of ecological advantages such as cool weather in summer, natural organic food, pure mineral water and rich oxygen, which make it an ideal destination for the elderly, said Li Bin, deputy director of the Heilongjiang Tourism Bureau at a promotional event on Wednesday.
Sun Yongbo, vice governor of Heilongjiang, added that the province aims to promote "migratory bird senior care" to a higher level by integrating it with local culture, tourism and health care.
"Senior care is an emerging industry. It is a smart play for Heilongjiang to promote it in the name of the government," said Chen Xiurong, chairman of a Taiwanese investment association in Fuzhou.