Hefei-Fuzhou line on track for early launch
( chinadaily.com.cn )
Updated: 2015-06-17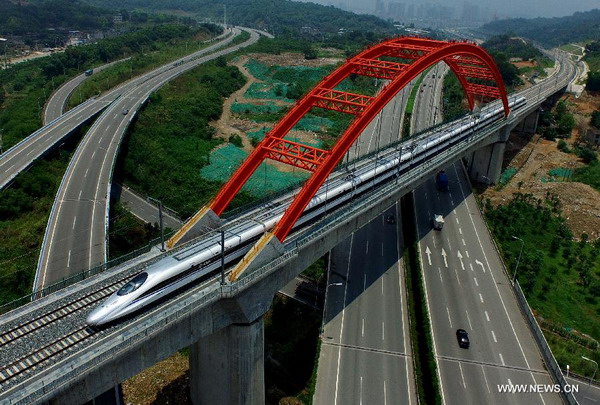 A CRH train runs on the Hefei-Fuzhou line in Fuzhou, capital of southeast China's Fujian province, June 1, 2015. [Photo/Xinhua]
The inaugural journey on the Hefei-Fuzhou high-speed railway could be on June 28, two days ahead of the scheduled July 1, Anhui Business Daily reported on Tuesday.
The change still needs to be approved and announced officially by the China Railway Co, the newspaper said.
Ticket sales are set to go ahead on June 23, with prices to be announced soon.
The 852-kilometer line connecting Hefei in Anhui province and Fuzhou in Fujian is attracting public attention as it runs through many famous tourist destinations.
While crossing Jiangxi and Fujian provinces it passes the Yellow Mountain, Sanqing Mountain and Wuyi Mountain.
The line is part of the Beijing-Fuzhou high-speed railway. With a projected speed of 300 km/h it will cut travel time between Fuzhou and Beijing from 20 hours to seven.
It will also reduce travel time from Fuzhou to Wuyi Mountain, Yellow Mountain and Hefei to 50 minutes, 2.5 hours and three hours respectively.
Construction began on Sept 30, 2010.