Timber arch lounge bridge: living fossil of bridges
( chinadaily.com.cn )
Updated: 2015-05-25
Chinese Folk Artists Association conferred the title of "Home of timber arch lounge bridges of China" – a national culture brand – to Pingnan county, in northeastern Fujian province, this year.
Pingnan has 13 ancient timber arch lounge bridges, with the oldest dating back to the Song Dynasty (960-1279), according to records. Wan'an Bridge, built in the Song Dynasty, is the longest existing timber arch lounge bridge nationwide.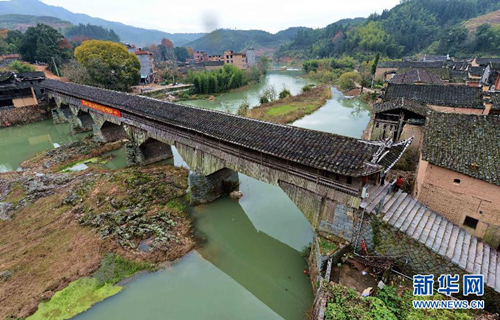 Wan'an Bridge, Pingnan county [Photo/xinhuanet.com]
Such bridges share the same structure, with 61 round cedar longitudinal beams and 10 transverse beams connected with mortises and tenons to form a splayed bridge arch.
Eight beams constitute four X-shape scissor forks to prevent the bridge arch from swaying left and right, rods are inserted into the arch for support, and planks are transversely paved on the support to form the bridge deck.
A bridge house is built on the bridge deck, with a double-slope roof or an overhanging gable roof.
"In spite of their wide span, the bridges are stable with inlaying of purlins and rafters, instead of nails," said Gong Difa, former curator of Shouning County Museum.
Fengshui, the traditional Chinese study of geomancy for buildings or cemeteries, plays an important role in selecting locations for timber arch lounge bridges.
"The bridges are built around river outlets, where villagers believe good fortune slips away," Gong explained.
The bridges in eastern Fujian also feature the combination of bridges and shrines. Each bridge has a shrine in a corridor-type passageway with a width of two meters or more in the middle of a bridge house.
Timber arch lounge bridges have attracted attention since they were founded in 1980s. In 2012, they entered the China UNESCO World Heritage Tentative List.
Nowadays, timber arch lounge bridges serve as the hallmark of eastern Fujian.