Taiwan experts design Pingnan's ancient village protection
( chinadaily.com.cn )
Updated: 2015-02-04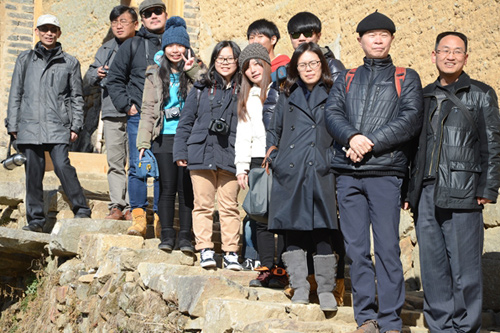 An architecture design delegation from Taiwan poses a photo in Pingnan county, Fujian province. [Photo / cn-bsy.com]
An architecture design delegation from Taiwan started a 15-day inspection to help conserve and develop local ancient villages in Pingnan county, Fujian province, on Jan 20.
The delegation is composed of architecture professors, postgraduates and undergraduates from Taiwan Huafan University (HFU) and Taiwan Ming Chuan University.
Xiao Baixing, a member of the delegation, is head of Architecture Department of HFU. Xiao has made many contributions to the conservation and development of Pingnan's ancient villages.
His essay about Pingnan ancient bridges won international acclaim in the third China International Symposium, held in Pingnan county in 2009 and based on the theme of 'Roofed Bridges of Wooden Arch Structure'. He also gave a themed lecture in the Chinese Traditional Rural Cultural Heritage Protection Summit in Pingnan in November, 2014.
By Zhai Song and edited by Jacob Hooson