Baishuiyang Water Sports Competition waltzes to an end
( chinadaily.com.cn )
Updated: 2014-09-17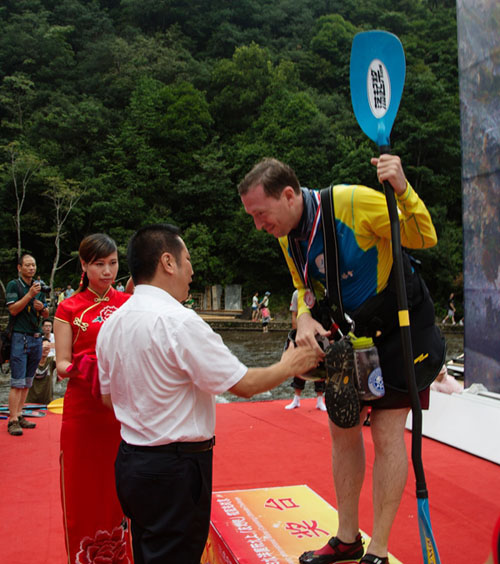 Ling Qingxian, acting deputy director of the 2014 China-Baishuiyang International Water Sports Competition committee, awards a winner's medal.
The 2014 China-Baishuiyang International Water Sports Competition held its closing ceremony on Sept 7 in Baishuiyang, Pingnan county, Fujian province.
There were nine games in the two-day competition, including kayak racing, a double rubber dinghy rush and a waterfall challenge, each providing gold, silver and bronze medals.
American competitor Jason Beakes ranked first in the men's professional kayak competition and Chinese girl Li Jingjing won the women's competition.
The champions for the double rubber dinghy racing were Lin Zhimin and Li Baogan, while the gold medal for the kayak amateur group was awarded to Zou Pinhai.
This is the first international competition held in Baishuiyang. The Fujian government plans to take the opportunity to bid for an Asian-Pacific kayak competition in 2016 (a warm-up for the 2016 Rio Olympic Games) and a kayak world cup in 2017, in attempt to strengthen exchanges and cooperation with the world, improve the development and popularity of water sports, enrich local sports and build Fujian's brand of sporting events.