Pingjiang opera: a traditional art facing chances and challenges
( chinadaily.com.cn )
Updated: 2014-09-09
Introduction to Pingjiang opera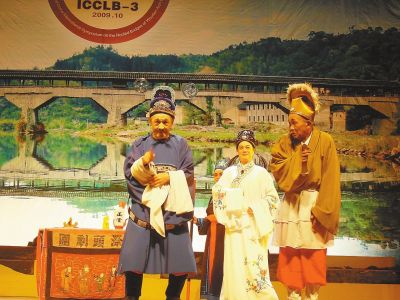 Pingjiang opera. [Photo / yyx.com.cn]
Pingjiang opera, one of the sources of Fujian opera, originated in Jitou village, Pingnan county, Fujian province. It is sung in the local dialect featuring a near-speaking style. Pingjiang opera was listed in the second batch of national cultural heritages in 2008 and was a candidate for the representative of cultural heritages in 2014.
Pingnan, honored as "town of operas", even had opera troupes in 90 percent of its villages. Pingjiang opera is the one most related to the local life but it has a bleak future.
History of Pingjiang opera
Zhang Zhishen, the pioneer of Pingjiang opera, founded the first Pingjiang troupe in the early Qing Dynasty (1644-1911). Pingjiang opera started in Jitou village and flourished in the late Qing Dynasty. At that time, 120 Pingjiang troupes were set up in the villages of Pingnan.
Pingjiang opera waned because of wars and new opera trends in the late Republic of China (1912-1949). It was revived in 1970s, but the disbandment of the last Pingjiang troupe in Siping village in the 1980s announced Pingjiang opera's virtual extinction.
Current situation of Pingjiang opera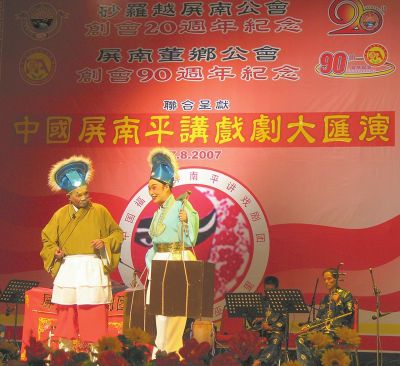 Pingjiang opera performs in Malaysia. [Photo / yyx.com.cn]
Zhang Xianlou, a 78-year-old-man, is an inheritor of Pingjiang opera. He started to learn Pingjiang opera at the age of 11, and saw the decline of the opera when he was 15, in which year the troupe he was in was killed off.
A China Siping Opera Seminar was held in Pingnan in 2006. Zhang Xianlou, with ten other old artists, seized the chance to perform the traditional local art and set up a Pingjiang opera troupe.
After the successful performance, Pingjiang opera started to be taught in Pingnan University for the elderly and attracted 20 elderly people into the troupe. A Pingjiang opera troupe with 40 members began to perform around the county, but it only lasted for three years, as some members left the troupe due to the lack of funding.
Chances and challenges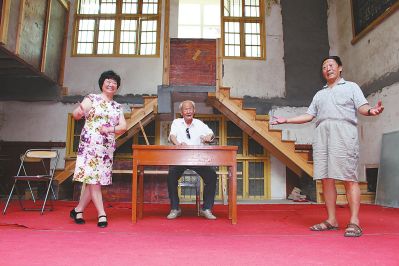 Pingjiang opera artists rehearse. [Photo / yyx.com.cn]
Now, there are 13 members in the Pingjiang opera troupe, with an average age of over 60. The troupe presented brilliant Pingjiang opera to a group of experts form the United Nations Educational Scientific and Cultural Organization (UNESCO) when they conducted a mid-term evaluation in Baishuiyang scenic spot in Ningde Geopark from July 17 to 18, 2014.
Pingjiang opera has been staged in Baishuiyang scenic spot from 2012. The troupe now has 40 learning members, with an average age of 40. How to attract the younger generation to get involved in the traditional art is the biggest challenge for Pingjiang opera's development.