2013-09-10
Chinese labor-intensive enterprises should relocate to Africa with its abundant young workforce, former chief economist and senior president at the World Bank Justin Yifu Lin said during the 17th China International Fair for Investment and Trade.
2014-04-14
The prosperous development of Xiamen city in east China's Fujian province has left a deep impression on Xanana Gusmao, Prime Minister of Timor-Leste, who is seeking broader economic cooperation with Xiamen.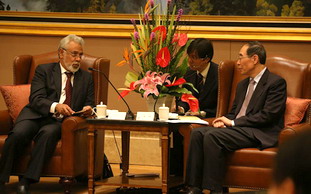 2014-04-14
Dili, capital of the Democratic Republic of Timor-Leste and Fujian province in east China signed a letter of intent for friendly relations on April 12.
2013-09-07
With one of the most robust economies in China's eastern coastal areas, Fujian province has great potential for investors and enterprises looking to expand, local officials said.