2014-12-08
By far, The Confucius Institute have 475 institutes and another 851 Confucius Classrooms in 126 countries or regions worldwide, with 3.45 million registered students in cumulative terms.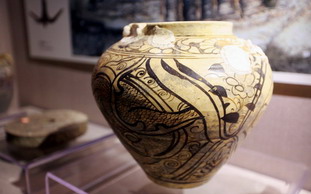 2014-12-18
An exhibition of treasures from the Maritime Silk Road, called Over the Sea, is on display at the Maritime Museum in Quanzhou, Fujian province.

2014-12-01
A traditional Chinese wedding was held in Daonan Village of Songkou Township in Yongtai County in Fujian Province, Nov 29.

2014-11-24
The Palace Museum mascots named "Zhuangzhuang" and "Meimei" first met the public in Xiamen, Fujian province on Nov 23.

2014-11-20
The 2014 International Kite Festival was held on Nov 8 - 9 in Golden beach, Siming district, Xiamen, which attracted 80,000 visitors from all over the world.

2014-11-18
An associate professor from Huaqiao University, won the men's title of the first Great Hakka Marathon on Nov 15 in Nanjing county, Fujian Province.