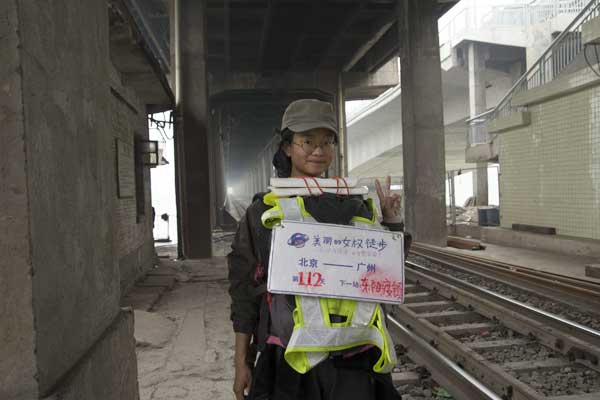 Xiao Yue is on her way to Guangzhou in her campaign to prevent sexual assault in schools. Provided to China Daily
It's easy to spot hiker Xiao Yue on the road, with the small white board proclaiming "feminist hiker - from Beijing to Guangzhou" on her backpack. Without any transportation, she has been on her feet since she started this excursion in September, a campaign against sexual assault in schools in China.
"Women should have freedom, the freedom not to be sexually violated and to do what we want to do. We should strive for that on our own. I want to change the society with my action, even if only for a bit," says 24-year-old Xiao, who is better known as Xiao Meili, her online name.
With an art design degree from a university in Beijing, she has been drawing media attention in recent years with activities to promote gender equality. On Valentine's Day in 2012, she wore a bloody wedding dress with two other young women and walked around Beijing's tourist street at Qianmen to raise awareness against domestic violence.
She has covered Beijing, Hebei, Henan, Hubei, Hunan and Guangdong, clocking about 2,200 kilometers. She is in Guangdong province now and will end her tour in March.
In May 2013, news of at least eight cases of sexual violation involving children reported by the media shocked the nation. The cases, all within a span of 20 days, included one which involved two men who molested a boy in a kindergarten. Most violators were teachers or headmasters of victims.
"We should build better school environments and give students proper sex education. There should be a certain liability scheme for teaching staff," she says.
"I've passed by many small cities. It's a lot more meaningful promoting gender equality and prevention of sexual violation in those places, because residents there receive less of such information than those from big cities."
Xiao has written letters urging government to establish a system to prevent and control sexual violation in schools, protect victims from secondary injuries and make such information public.
She collects signatures for her letters from the local residents by explaining and persuading in every place that she goes to and mails the letters to the local government, education bureau, and public security bureau.