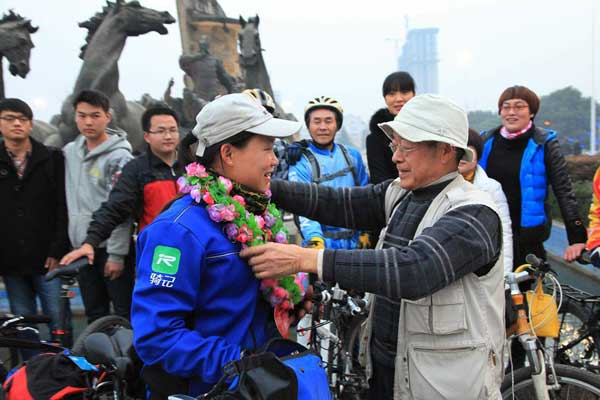 Cycling fans and media reporters welcome Jia Yanmei with flowers in Xichong county, Sichuan province. Photos Provided to China Daily
Cyclist Jia Yanmei and a fellow enthusiast pedaled more than 2,200 kilometers from Beijing to their individual hometowns in Sichuan to celebrate the Lunar New Year with their families, Xu Lin reports.
While others rushed home on high-speed trains or airplanes for the annual Spring Festival, Jia Yanmei spent 16-plus days cycling more than 2,200 kilometers from Beijing to her hometown, Nanchong, Sichuan province.
Thanks to social media, cycling fans from different cities were able to follow her progress, and some even offered food and accommodation if she happened to be nearby.
"It's not that I failed to buy my train ticket home. I just want to bring the spirit of cycling to everyone - to do whatever you want to do bravely. As long as you are on the road, you will enjoy yourself," says Jia, 26, an English teacher at an educational institution in Beijing.
She started her adventure at 8:30 am on Jan 12, with Wang Yujiang, 47, who works in architecture in Beijing. A cycling friend introduced them because Wang also wanted to cycle to his hometown, Guangyuan, Sichuan province.
Jia says Wang treated her like his daughter and took care of her on their way. After Wang arrived in Guangyuan, she cycled two days on her own to reach her home.
"I must say that I admire her. She's not like others. No matter how tired she is, she can soon recover after meals," says Wang, who is cycling back from his hometown to Beijing now.
"I've improved myself a lot after the cycling. No matter what difficulties I will encounter in the future, I will have confidence to face them," Jia says.
When she posted her plan online on Christmas Eve, many cycling fans supported her, lent her equipment and gave her gifts. She updated her social networks, such as Sina Weibo and WeChat, with news of her cycling adventures, as well as a cycling-related app that recorded her route.
Four days after her departure, one of her friends learned about the trip in a newspaper and told Jia's parents. Her mom was so worried about Jia's safety that she cried and called Jia several times.
For more China Face,
here