Yoga as a lifestyle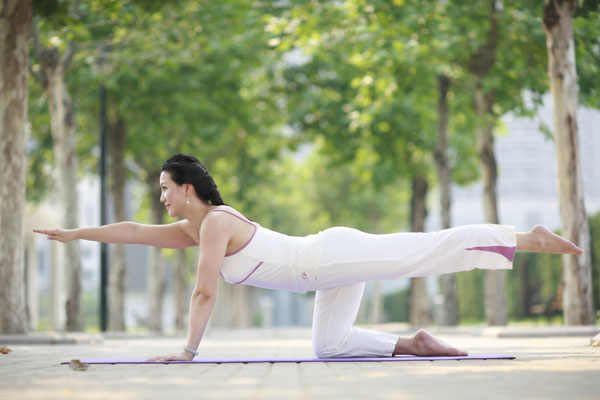 Just like any international product, yoga needs to be tailored in order to suit different cultures.[Photo provided to chinadaily.com.cn]
Localization
Just like any international product, yoga needs to be tailored in order to suit different cultures. Part of what Zheng aspires to do is to localize India's yoga in an effort to cater to the demands and tastes of Chinese people. Her plan is to incorporate Confucianism, Taoism and Traditional Chinese Medicine (TCM) into yoga while maintaining the original theory of Indian yoga.
Given the fact that China lacks a standard certification system in order to be a yoga instructor, most yoga instructors at private training centers are not qualified to teach. This lack of formal certification has led to many cases of trainees being injured during yoga practice and has aroused public concern.
In order to address this problem and propagate Chinese-style yoga to the country, Zheng and her team have worked out a practical course system that is by far the most scientific and authoritative one, serving as a key to the professionalization of yoga.
Zheng also advocates that yoga should become a subject at Chinese universities, and her efforts are about to be paid off. China will see its first yoga majors in the near future, which will to some extent help reduce the pressure of employment on college students. "When those yoga majors graduate, they will become yoga coaches, and they can facilitate the standardization of yoga training because the education they receive will be complete and scientific."