Yoga goes gaga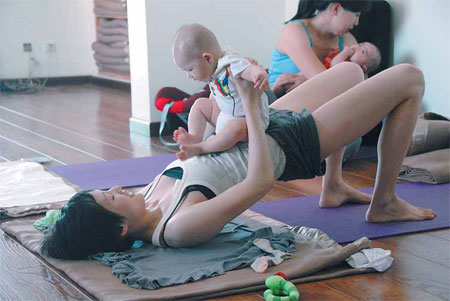 Cheng Li practices mom-and-baby yoga with her daughter Sisi at Yoga Yard in Beijing. Photos by Geng Feifei / China Daily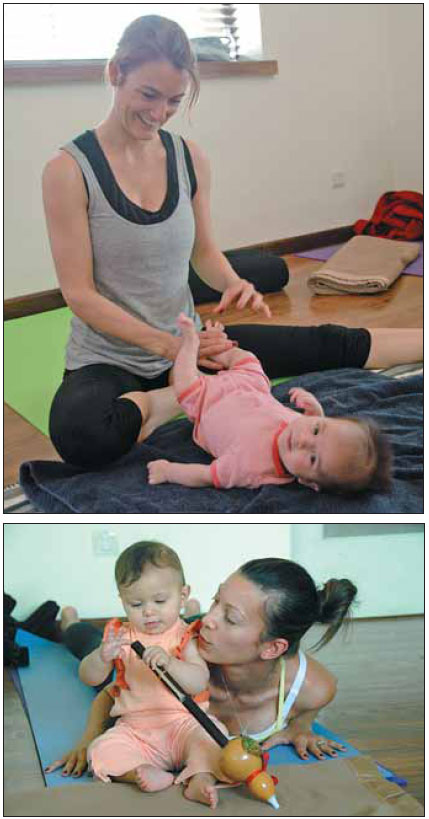 Two foreign mothers and their children practice at Yoga Yard.
Mom-and-baby yoga classes, featuring such poses as 'tickling baby' and 'flying mommy', are taking off in the capital. Erik Nilsson reports in Beijing.
This is where "om" meets "aw". Strollers are lined up in front of a shelf selling granola bars, Zenergy-brand chimes and natural botanical soap at Beijing's Yoga Yard, where mom-and-baby yoga class is about to begin. Yi Fenghua, like most mothers, finds these courses offer opportunities for her and 3-month-old Tiaotiao to exercise and socialize.
"I had never tried yoga - let alone baby-momma yoga," the 29-year-old Heilongjiang native says. "I'd never even heard of it."
But she's delighted to discover it through a breastfeeding-discussion group on Sina Weibo, a micro blog service that's China's answer to Twitter. Yi was looking for ways to lose weight after having her baby and found most sports were off limits. She says she could swim but didn't want to leave her baby alone while doing so.
"Momma-baby yoga allows both of us to exercise and helps me fight my postpartum depression," Yi says.
"My husband works, so I'm home with a baby screaming in my face all day, every day."
The classes feature postnatal poses that use the babies as adorable weights and also allow the babies to stretch.
"Most of us Chinese believe babies are delicate," Yi says. "Few know you can move the baby like this."
Sessions start with the mothers introducing their babies' names, ages and latest developments, such as ability to smile, sit up or laugh. Mothers just give their names.
Babies crawl, shuffle toward other infants and pat or poke them, cooing and laughing.
Students from other classes poke their heads in and coo.
"Look at all the babies!" one of them exclaims. "It's the cutest thing I've ever seen!"
Then come such poses as "tickling baby", "flying mommy" and "kissing baby". The class is roughly equal parts posing and playing, punctuated with diaper changes and breastfeeds.
"This lets me take Tiaotiao out and meet other moms and babies," Yi says.
"It's good for her to meet new babies. She screamed through the entire first lesson. But now she's OK. She actually really enjoys the exercise and new people."
Yi says it's different from taking Tiaotiao to spots where parents and children gather in their community.
"That's passive for her. She just lies there on a rock. Yoga engages her."
Yoga Yard instructor Su Ziyue says about 20 percent of attendees are Chinese, while the rest are foreigners.
There were almost no Chinese when she started teaching the courses in 2008.
"Not many Chinese did prenatal or postnatal yoga when I was pregnant," Su says. "They think it's dangerous."
But it is helpful, rather than harmful, and a growing number of doctors in China are recommending it.
"It helps with breathing, stress, muscles - you name it," Su says.
"Mothers' bodies need to recover after they give birth. Special yoga helps heal them, while regular yoga might injure them. And yoga helps the babies sit up, crawl and walk sooner."
She brought her infant daughter, who's now 2.5, to the classes she taught, she recalls.
"We joked that I taught the moms and she taught the other babies," she says.
She now instead demonstrates poses with a teddy bear that informs the mothers while entertaining the infants.
"The first class I brought my daughter to, she started crying, and one-by-one, the other babies started crying until they were all wailing," Su says.
"The babies are about the same age and have roughly the same capabilities."
Cheng Li says her 6-month-old daughter Sisi loves playing with the other babies.
"She plays and exercises, but she doesn't have to if she doesn't want to," the 26-year-old Henan province native says.
"And I can communicate with other moms, make friends, ask questions and compare notes. One mom gave me some high-quality formula."
Cheng has done yoga since 2007. She did 200 hours of prenatal training in Shanghai, she says, and resumed when Sisi was 3 months old.
"It helps me relax and takes away the pressure," Cheng says.
"It helps my back pain and lets me sleep better. Sisi's father works outside Beijing. So, it's good to do something for myself, while also doing something for my baby."