Yoga, rest and play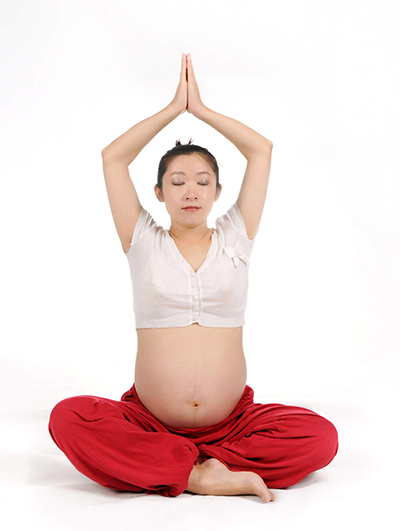 An expecting mother from Jiaxing, Zhejiang province, does yoga. Provided to China Daily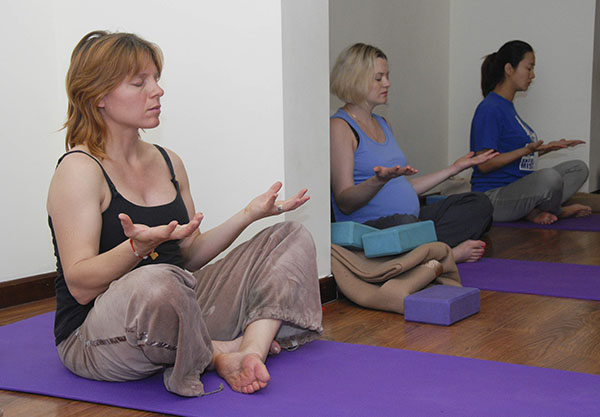 Mothers-to-be practice yoga at Beijing's Yoga Yard. Geng Feifei / China Daily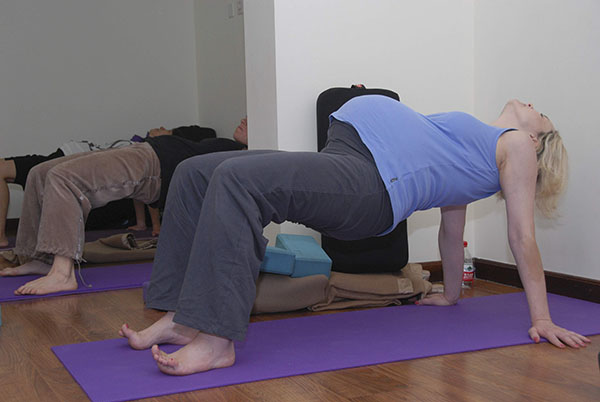 A trend for yoga in the Middle Kingdom flies in the face of traditional beliefs and has even got expecting mothers involved. Erik Nilsson reports in Beijing.
Yoga is catching on in China - so much so, that some of its practitioners aren't even born yet.
Prenatal and postnatal yoga are becoming health and social trends that fly in the face of widely held Chinese beliefs that new and soon-to-be mothers shouldn't exert themselves.
"I didn't do yoga years ago, because I thought it was weird," Su Ziyue, an instructor at Beijing's Yoga Yard, says. "But when I got pregnant, I found it made me more comfortable. Many expecting moms come to our classes."
That number is growing as yoga catches on in its various forms. Body & Soul Yoga Club in Shanghai, for instance, even offers classes on golfing yoga, intestine-cleansing yoga and yin yoga, which infuses Chinese Taoist concepts into the Indian tradition.
Niu Zhuhai studied yoga for two years and resumed after she became pregnant.
"There aren't other safe sports for pregnant women," the 27-year-old Hebei native says. "I'm 7 months pregnant, but I never have back pain. That's probably because I do yoga."
Wang Shanshan, who's 6 months pregnant, also points to the health benefits.
"It helps my body, especially the breathing," the 30-year-old Beijing resident says. "And it helps my mind and soul. It also keeps me emotionally stable."
Wang practiced yoga for five years and says prenatal yoga offers additional socializing advantages.
"We mothers-to-be talk about how many weeks we are in, what feelings we have and what discomforts we're experiencing," Wang says. "I'll do postnatal yoga, too."
Niu, however, says she doesn't interact as much during classes.
"Chinese moms are mostly shy," Niu says. "Most people there are foreigners. They aren't shy, but I can't speak very good English."
Shanghai's Hong Prenatal Yoga studio founder Sun Hong says she has seen the number of Chinese increase from virtually none three years ago to account for about 20 percent of her students. Hers might be the country's only yoga institution devoted solely to prenatal and postnatal yoga.
"Most of my clients are foreigners because it's a new concept but especially so in China," Sun says. "More Chinese people will soon accept this. They will change their current idea that a woman who's pregnant or just given birth should stay home and not do anything - only rest but not exercise."
Sun says more doctors, especially those at international hospitals, are recommending prenatal and postnatal yoga to women who've recently had, or will soon have, children.
"Women can regain the strength they lose during their pregnancies, and they need both physical and mental exercise," Sun says.
"All my clients who have given birth say the prenatal yoga breathing methods helped them. It's different from other yoga breathing. You can release the pain, and relax muscles and minds. You can't fight your body during childbirth. If you do that, you have a lot of tension."
Some mothers say they believe it was only because of yoga that they were able to endure natural births.
Sun says it also shaves several hours off labor. As the trend grows globally, it is also starting to bloom in China.
"Because China is opening up, and Shanghai is a progressive city, more Chinese are meeting foreigners and learning new things," says Sun, whose husband is Swedish.
"They try these new things like yoga and find they're fantastic."
And the women learn even more when they communicate in the classes.
"You can talk about pregnancy, breastfeeding, places to buy clothes, diapers, parenting - anything," she says.
Sun also says that some become friends who meet up outside the class.
While the studio has momma-baby yoga, it doesn't involve the infants in the exercises.
"Momma-baby yoga's not as serious as postnatal practice without the baby," Sun says. "If the baby cries, you have to take care of it."
This detracts from some of the healing benefits but enables moms without a sitter to attend classes.
Sun says she decided to open her studio because she is a mother of two - her daughter is 13 and her son is 12 - and the pace is more her style.
"My style is much calmer and slower than power yoga," Sun says. "And it's a big market in Shanghai. I hope and believe more Chinese will accept it, because it has so many benefits. It just takes time."