A well traveled Italian in Beijing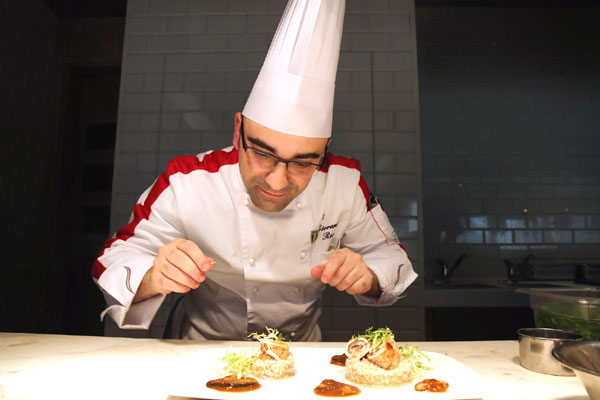 Giovanni Ricci lends his skills to Bene Italian Restaurant at the Sheraton Beijing. [Photo provided to China Daily]
At 38, Giovanni Ricci has already chalked up 23 years in some of the world's best kitchens - including the Sheraton Bologna in Italy and the Hilton Prague in the Czech Republic. More recently, he ventured to Asia with a stint at the Saujana Hotel Kuala Lumpur, Malaysia, where he was responsible for the 100-seat award-winning Senja Restaurant.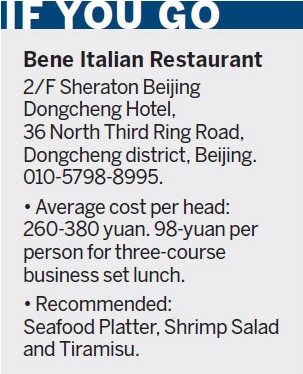 Ricci comes from San Benedetto del Tronto, an active fishing port and one of the main seaside resorts on the central Adriatic coast in Marche, Italy - and the maritime influence is reflected in his shrimp salad and seafood platter.
But he is also schooled in classic Italian, as marked by the chef's tiramisu, a dessert that has already won him accolades and an award in Malaysia.
At Bene Italian Restaurant at the Sheraton Beijing, Ricci takes advantage of the seasonal truffles from November to March to create several signature dishes. One is a black truffle risotto with a veal roll with ham. Another is a buffalo cheese tortellacci with black truffle paste.
Italy is the first country to sell truffle, and it accounts for up to 80 percent of world sales, he says.
The most important black truffle production area is Umbria's Norcia and Spoleto, while Alba, in northern Italy, produces white truffle.
Black truffle can be used in many different dishes, but mostly, it is freshly shaved on to the plate. Most of the time, the chef would use about one gram of truffle per dish or about four thin slices.
Ricci says black truffle can be used with fish, pasta and poached eggs.
"The dishes should be simple, so as not to overcome the aroma of the truffle," he says.
In December, Bene was using black truffle from Yunnan. Although its taste is good, Ricci says the flavor is not as strong as Italian black truffle.
White truffles from Italy can cost up to 6,000 euros ($8,008) per kilogram, so dishes can be pricey. For example, the veal with risotto costs 225 yuan ($36), and the ravioli costs 150 yuan. But the chef believes if diners appreciate the quality of the ingredients, they would not care too much about the cost.
"I like to do authentic and original food," the chef says. "In China, people can travel to many different regions. Likewise, I traveled to a lot of places in Italy so I can prepare a lot of regional food from Italy."
For example, the tortellacci is from Emilia Romagna in northern Italy, and the veal risotto dish is Lazio-style. Ricci is working to implement a new menu of Italian regional cuisines, which he says is "rustic with a modern twist".
And with that, the chef hopes to make it a full house in the restaurant every day.
yejun@chinadaily.com.cn