Chef Yannick: Reinventing simple cuisine, pairing it with fine wine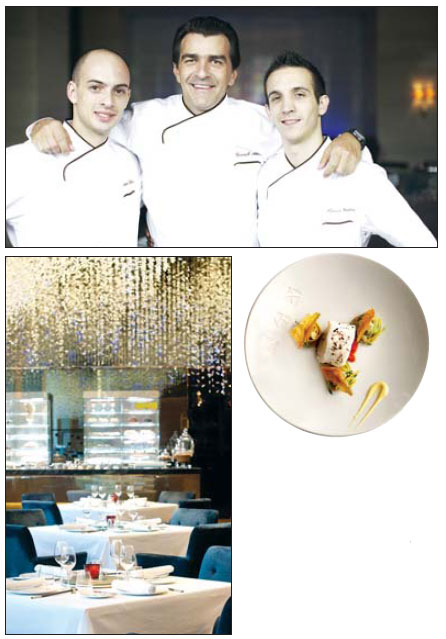 Clockwise from top: S.T.A.Y.'s founder Yannick Alleno (center), chef de cuisine Maxime Gilbert (left), and pastry chef Florian Couteau. Presentation of codfish braised in slightly salted butter. The S.T.A.Y. dining area in the Shangri-La Hotel, Beijing. Provided to China Daily
A chef with three Michelin stars like Yannick Alleno will go to almost any length to gain even a small improvement in a recipe.
He'll find the best provider for every given ingredient and he will not stop fussing with those ingredients until he can finish the dish with a fine edge.
Related Food Review: Caviar indulgence
Things got even more exciting when Yannick chose the Shangri-La Hotel in Beijing to open his very first S.T.A.Y. - short for Simple Table Alleno Yannick - restaurant in Asia.
The restaurant's premise is to reinvent simple French cuisine in a stylish contemporary setting.
Chef Yannick personally selected the brilliant Maxime Gilbert as the chef de cuisine to execute his quarterly creation as well as pastry chef Florian Couteau to run the restaurant's pastry kitchen named Pastry Library.
One of the unique appetizers of autumn menu on offer is stuffed and braised savory cabbage.
The secret weapon of the hot appetizer is the tender veal. Succulent in taste, it also absorbs flavorings beautifully teamed with red cabbage, and is served with meaty sauteed chanterelle mushrooms freshly picked in Yunnan.
Wine paired with the appetizer is the organically grown and produced Chateau Gigognan Chateauneuf-du-Pape Clos du Roi 2005.
One of the main courses to follow is codfish braised in slightly salted butter with Zucchini spaghetti and fresh almond, saffron tomato fondue.
The codfish is served on a bed of grilled vegetables such as summer squash and pumpkin flowers in tomato sauce, with a sprinkle of saffron and almonds.
The best choice of wine for the dish is the white Meursault Les Clous 2007 by Pere & Fils.
Another main course is the Kobe beef filet Bercy style - renowned worldwide for its astounding marbling, tenderness and juiciness - with shallots and parsley.
The wine paired with the course is Chateau Domaine de L'Eglise Pomerol 2001, a red wine from Bordeaux. Its rich, spicy and light chocolate tone is simply the best choice for paring with the stylish Kobe steak, said the chef.
Dessert after the main course is chestnut and cognac flavor pie. It is specially recommended by pastry chef Florian Couteau.
The ideal choice of wine with the dessert is Les Cypres de Climens Barsac 2002.
Address: Shangri-La Hotel, Beijing, 29 Zizhuyuan Lu, Haidian district, Beijing.
Contact: 86-10-6841221 ext. 6727
zhuanti@chinadaily.com.cn